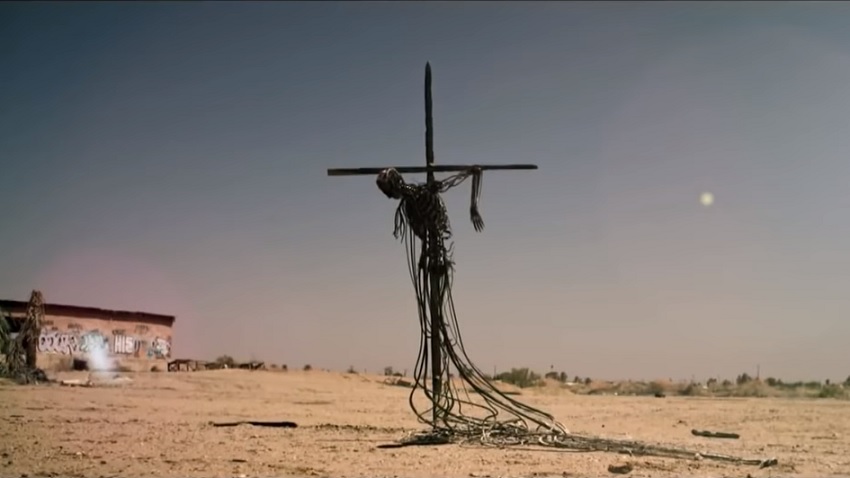 Future World is the upcoming post-apocalyptic sci-fi movie that, thanks to its combination of synthetic humans and campy villains in faux punk leather, seems like an amalgamation of 1976's Futureworld, the sequel to Michael Crichton's 1973 classic sci-fi western Westworld (itself currently the subject of a stunningly reimagined HBO TV series) and the older movies in the Mad Max franchise.
Directed by James Franco and frequent Franco collaborator Bruce Thierry Cheung (Don't Come Back from the Moon), and written by Jeremy Cheung and Jay Davis (Blood Heist – another Franco movie), Franco also heads up the cast which also stars Milla Jovovich, Suki Waterhouse, Elisha Henig, Lucy Liu, Method Man, and Snoop Dogg.
Franco and Jovovich star as the villainous heads of a gang of marauders in the post-apocalyptic future who discover a pristine synthetic (Waterhouse) and bend her to their will. However, when she encounters a boy out in the world who's searching for a cure for his dying mother, she defies her programming to aid him in his quest and protect him from harm.
The official plot synopsis is as follows:
A young boy searches a future world wasteland for a rumored cure for his dying mother.
Let's take a look:
To be blunt I think this looks cheaply made and poorly written with some clunky dialogue, quite reminiscent of B-grade '90s action movies, with the only saving grace being the names attached to the cast. Although if you've been paying attention over the years you may have picked up that I'm no James Franco fan, so I'm just going to throw this question out there for you to answer because I'm probably a bit biased when it comes to him. Did anyone feel the slightest bit of intimidation coming from his supposedly villainous character? Because I sure as hell didn't, especially in comparison to the crazy co-villain Jovovich was able to channel – which was the highlight of the trailer for me.
The action doesn't look bad, but it doesn't stand out either. I think this is a movie to go into with low expectations. We may be pleasantly surprised, but I doubt it. What do you think?
Future World is due for release in the US on 25 May.
Last Updated: April 4, 2018