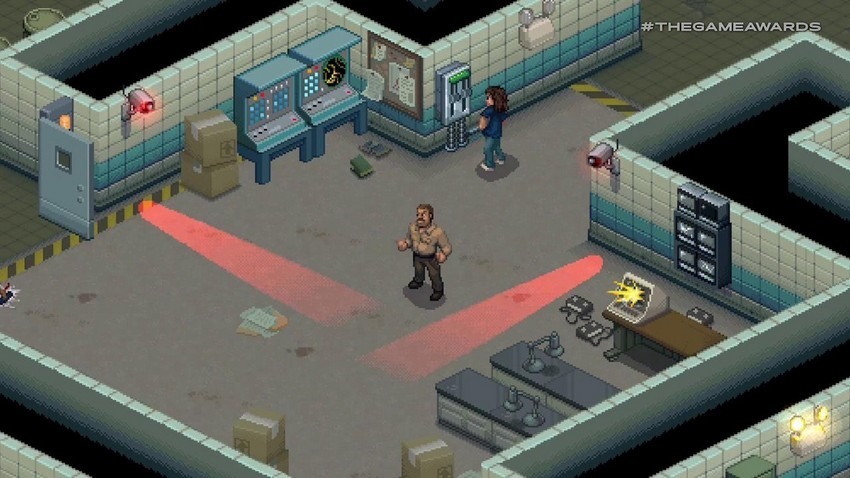 We don't know much about the hotly-anticipated upcoming third season of Stranger Things other than the fact that we're hotly anticipating it. We also know that the critically acclaimed Netflix horror-drama will have something to do with the brand new Starcourt Mall, described as "one of the finest shopping facilities in America and beyond with options for the entire family!", built in the sleepy (more like "creepy", am I right?) little town of Hawkins, Indiana. Other than that mall-centric teaser released back in July, Netflix and creators Matt and Ross Duffer, have played very mum when it came to details, but now we also know one other major thing about the next season: We can play it!
During the Video Game Awards last night, the Duffer Brothers took to the stage to announce Stranger Things 3: The Game, a brand new video game produced by Netflix and developers BonusXP. The game, which is a 16-bit isometric co-op action beat-em-up game – as perfectly befits the series' nostalgic vibe – will see players making their way through the events of season 3. A first trailer for Stranger Things 3: The Game was unveiled to give fans a taste of its retro-gaming goodness, but while it contains over a minute of gameplay, it doesn't reveal too much of what's to come as we see David Harbour's Chief Jim Hopper, Joe Keery's Steve Harrington, and Caleb McLaughlin' Lucas Sinclair (well, 16-bit approximations of them) battle their war through what looks like both a science lab and a mall food court. Or maybe it's all in the mall, even the lab? Hmmmmm, conspiracy theory senses tingling!
Check out the trailer below, and stay to the end for a pair of special guest appearances.
Hey, where's my Eleven and Dustin at? How can they leave the two best characters out of that trailer? If Dustin isn't there to shout out a "Son of a bitch!" when somebody is no help at all, there'll be hell to pay!
No date was given for both the release of the video game or the third season of Stranger Things, but its expected that the latter will debut on Netflix in mid-2019. As for Stranger Things 3: The Game, it will more than likely follow shortly thereafter and will be available on Xbox, Nintendo Switch. and PC. Sorry, Sony fans. No love for us it seems.
Last Updated: December 7, 2018