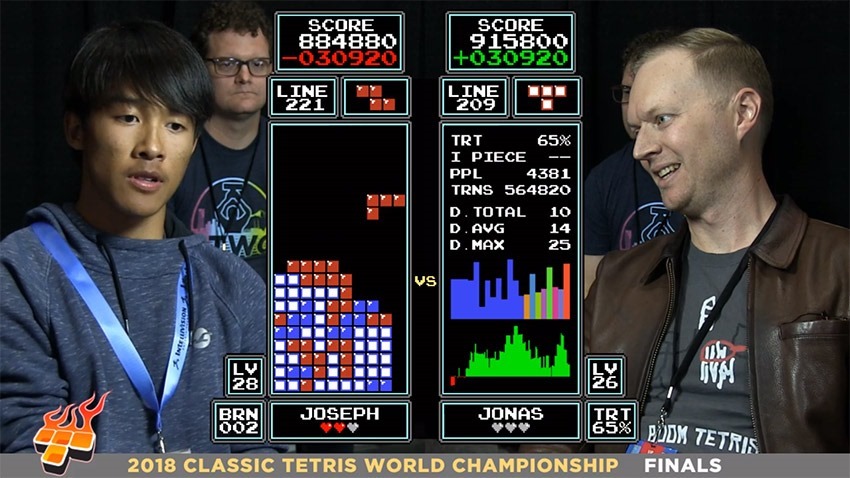 Believe it or not, but Tetris can be one hell of a competitive game. So much so that there's an annual Tetris World Championship that has opponents stacking up (and hopefully clearing) tetrominoes that descend at an increasingly rapid pace, vying for high scores. The Classic Tetris World Championship is played using the 1989 NES version of Tetris and requires eagle-eyed vision, quick-thinking and lightning reflexes.
And this year, the Classic Tetris World Championship was won by a 16 -year-old- Tetris prodigy. Joseph Saelee of Clovis, California, bested seven-time world championship winner Jonas Neubauer of Highland Park, California, in this year's grand final of the Classic Tetris World Championship. Saelee beat Neubauer 3-0.
Following qualifying rounds, the game is played as a 32 bracket seeded tournament. Players play up to three games in a match, with the first to win two games going on to the next round. The game is set to start at the already speedy level 15 or 18, with the highest score winning.
Here's the moment where Saelee won:
The moment 16-year-old wunderkind Joseph Saelee dethroned 7-time winner Jonas Neubauer (@neubsauce) to take the World Championship! #CTWC @TheCTWC @ArdaOcalTV pic.twitter.com/zsSwtGfHlB

— Tetris (@Tetris_Official) October 22, 2018
With some nice direct-feed footage
Joseph wins the Classic Tetris World Championship in some insane high-level play pic.twitter.com/kUibFbdMuO

— Wario64 (@Wario64) October 21, 2018
Joseph Saelee may only be 16, but he's demonstrated some incredible Tetris prowess. Here he is getting to level 31, which requires skills that my brain can't even comprehend.
For his trouble, Saelee won $1000 along with the Classic Tetris World Cup trophy.
Last Updated: October 23, 2018