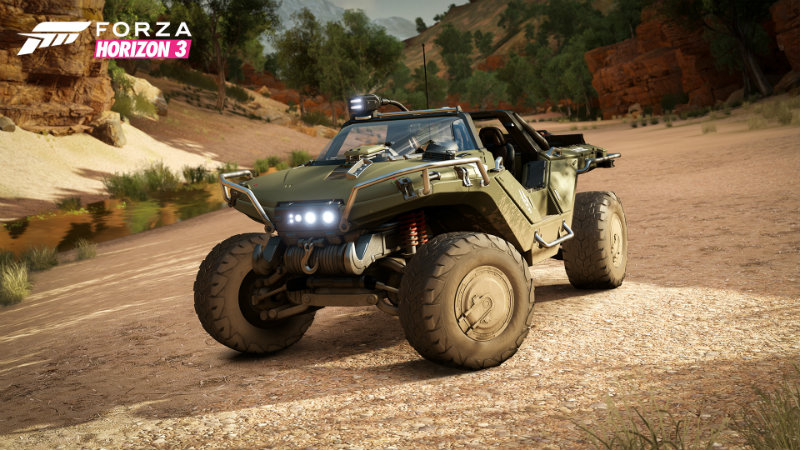 I haven't really been a racing game kinda girl in years. I mean, don't get me wrong, I will happily vroom vroom with the best of them if I'm at someone's house or an event or something, but I don't go out of my way to play driving games. I see the appeal, though, especially if you get the chance to virtually drive vehicles you'd never get to drive in real life. Forza has always been about the joy of that fantasy for me, and now there's an even cooler fantasy that you can experience in the new Forza Horizon 3.
The game has gone gold, by the way, which means it's off to the disc printing factory. But while that's busy happening, the team has also revealed a new vehicle that fans will be able to drive through the desert.
The Warhog will be given via code to all the Halo Xbox One fans. How do they know you're a fan? Well, if you've played Halo 5: Guardians or Halo: The Master Chief Collection on Xbox One. Easy enough. If you are a Halo fan but simply haven't played either title yet, you can still win the Warthog through a special "#Forzathon event" in October.
Obviously, the game also comes with a ton of achievements for you to earn and boost your precious gamerscore. Here they all are.
Welcome to Your Horizon: Open Festival with the first Showcase (10)
You're the Boss: Upgrade the Festival for the first time (10)
One of Us: Win your first Exhibition race as Horizon Festival Boss (10)
Stay on Target: Get a gold medal from a Danger Sign (10)
"Do you even… oh, you do": Get 3 Stars through a Drift Zone (10)
You're Hired!: Hire a Drivatar into your Drivatar Line-Up (10)
You're Fired!: Fill your Drivatar Line-Up and fire a Drivatar to make way for another (20)
Racer's Paradise: Open a Festival in Surfers Paradise (20)
First Time Buyer: Visit the Autoshow and buy your first car (10)
The Architect: Create your first Blueprint (10)
The Player: Complete another player's Exhibition Blueprint (10)
Champ: Win your first Championship (10)
Tonight We Ride: Win your first Street Race (10)
I'll Just Take This Now: Win your first Midnight Battle (10)
Street Racing Champion: Win every Street Race and Midnight Battle (50)
Like a Needle in The Outback: Find your first Barn Find (10)
Relic Hunter: Restore all Barn Finds (20)
Throwdown: Create and complete your first Bucket List Blueprint. (10)
Community Crusher: Play 10 player created Bucket List Blueprints (20)
Drive to the Music You Love: Sign 4 Radio Stations to your Festival (10)
Screaming through the Valley: Open a Festival in Yara Valley (20)
Bushcraft: Open a Festival in The Outback (20)
Maxed Out: Fully upgrade a Festival site (20)
YOU MUST CONSTRUCT ADDITIONAL PYLONS: Perform 10 Festival Upgrades (20)
Last Updated: August 31, 2016