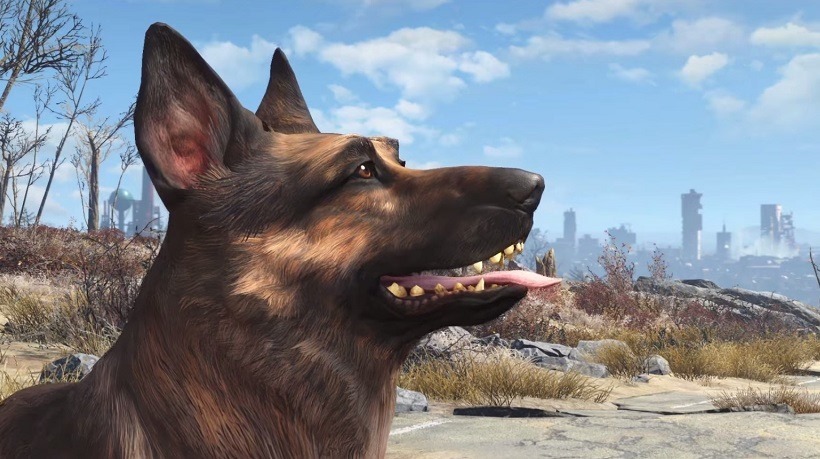 Motion capture, voice acting and mapped animations are all extremely crucial parts of bringing characters to life in videogames. Modern enhancements have allowed almost unparalleled advancements in each of these fields, to the point where we're able to capture individual expressions on an actor's face and map them onto a 3D model. But it's not just humans that are given this attention to detail. in fact, it's sometimes all the other actors and contributors that make an experience that much sweeter.
Meet River. She's a German Shepard, companion to the Lead Level Designer at Bethesda who is working on Fallout 4. Aside from being adorable, huggable and seemingly extremely friendly, River is also an important part to the entire Fallout 4 experience. She's the real life actor for one of the very first (and possibly best) companions you'll meet in-game, with River's mannerisms, voice and more being captured to bring Dogmeat alive.
It's so hard not to fall in love with Dogmeat – especially after seeing the real-life River- so it's a good thing that your Wasteland pooch partner won't be able to die during the course of the game. That goes for all of Fallout 4's other 11 companions you will be able to find and string along. They're vital to the story, and hence won't go down no matter how many bullets you refuse to dive in the way of.
That's not a bad thing, considering wonky AI can often lead to heart-breaking deaths that change the shape of an entire narrative. Fallout 4 is the type of RPG where that kind of loss would be impactful, but the journey you take with your companions is just as vital. And it seems Bethesda is far more concerned with this than heartbreaking, unscripted deaths.
Fallout 4 is out on November 10th. I can't wait to say hi to River myself.
Last Updated: September 22, 2015