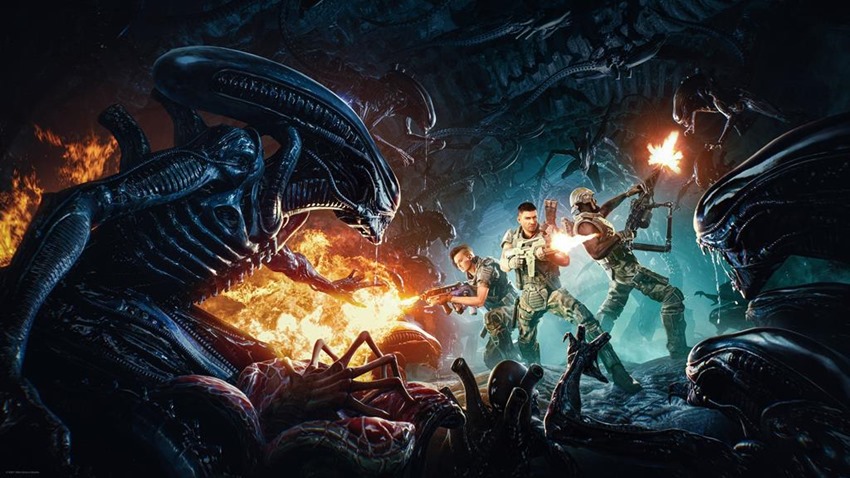 Its been a good couple of years since Aliens: Colonial Marines dropped from orbit, which means that it should be safe for a new twist on the nightmare fuel space-monster formula to pop out from cover. That game has arrived! Or at least its announcement trailer has, as Cold Iron Studios in collaboration with 20th Century Games revealed a first look at Aliens: Fireteam yesterday.
If there's an elevator pitch for this game, then its Aliens meets Left 4 Dead with a healthy dollop of gung-ho action thrown into the mix. Set 23 years after the original Alien trilogy ended, it's up to you to scout out colonies on the outer rim of human expansion and kill everything with an excessive level of drool and penis-shaped heads.
According to Cold Iron Studios, there'll be over 20 different enemy types to battle ranging from Xenomorphs that you can turn into a mushy carcass of toxic acid to deadly Weyland-Yutani Synthetics. Absolutely no corner of the map is safe, as you'll be assaulted from every conceivable corner and the Xenomorphs in particular will use their agility to get around you through vents, doors, and ceilings.
Players will have five classes to choose from for their character, as well as the usual character progression and advancement systems in multiplayer games of this ilk. If you're feeling masochistic, you can even amp up the danger level with the Challenge Card system that adds a few mutations to each playthrough.
"Many of the encounters start off with that moment of, 'Oh, we're badass Marines. We can throw turrets down, we'll use all our consumables, and we'll get through this just fine,'" Matt Highison, co-founder and chief creative officer at Cold Iron, explained to Gamespot.
But by the end, we want you to have that panic, and that moment where you realize, 'Hey, if we had split up, it would have been really, really bad, but we narrowly avoided defeat here.'
Aliens: Fireteam is set to launch in the northern hemisphere summer for PlayStation 4, PlayStation 5, Xbox One, Xbox Series X/S, and PC. Game on man, game on!
Last Updated: March 3, 2021