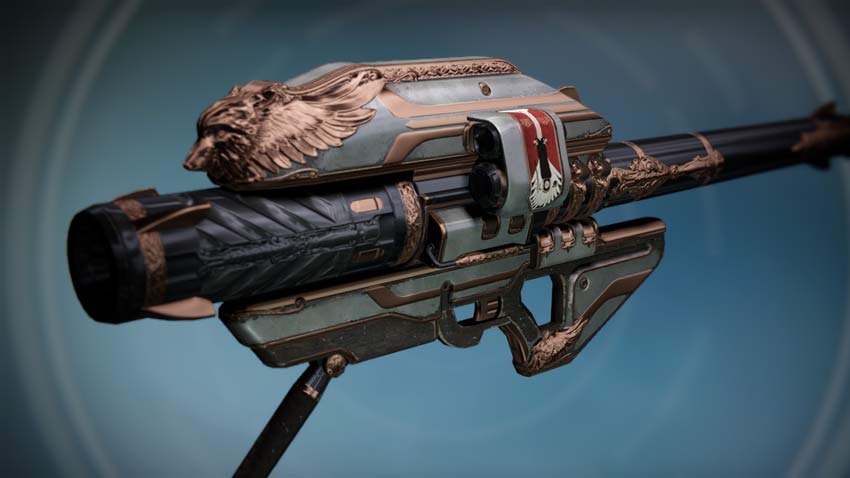 In an age where Earth was overrun with intergalactic scavengers, demons from the far reaches of the cosmos and time-travelling robots programmed for genocide, you could always count on one constant to level the playing field in Destiny:
GJALLARHORN!
Having a tough time overriding the Sword Logic of the Hive that allows them to bend reality to their paracausal will?
GJALLARHORN!
Need to send the SIVA-infected Fallen scum from the House of Devils back into the techno-organic hell that they were spawned from?
GJALLARHORN!
Need to reach across the table for that bottle of Sriracha sauce so that your breakfast can be complete?
GJALLARHORN!
Yes sir, the best rocket launcher in Destiny built up a hell of a reputation for itself over the course of three years, thanks to a payload which wasn't just explosive but also detonated into smaller cluster bombs which would follow enemies around. The fabled weapon and fan favourite has been missing in action throughout Destiny 2, with many a Guardian lobbying Bungie to bring back the almighty death-dealer. Which might be happening soon.
Over on Reddit (Thanks, GamesRadar), user JpDeathBlade recently went through an entire dump of code that hid details for the weapon within miscellaneous data. All this data points to an event called Solar Week, a weeklong hub of activity similar to the recent Arc Week which focused on elemental damage challenges and shone a light on specific subclasses and supers in a celebration of power. So Solar Week will naturally highlight Warlock Dawnblades, Hunter Gunslingers and Titan Sunbreakers.
"Scattered pieces of a greater whole" is one of the quests that'll be present in Solar Week according to the data dump, which will see Guardians search for "rocket launcher components". This ties back into 2016's Rise of Iron quest, which featured a similar quest wherein Guardians forged a new Gjallarhorn that was befitting of their status as one of the new Iron Lords of the era. Sweet Crota, it was glorious:
Of course there's no guarantee that this quest will be active come Solar Week or even reward players with Gjallarhorn as plenty of other rocket launcher exotics exist within Destiny's world, but a Guardian can dream. GJALLARHORN!
Last Updated: July 10, 2019