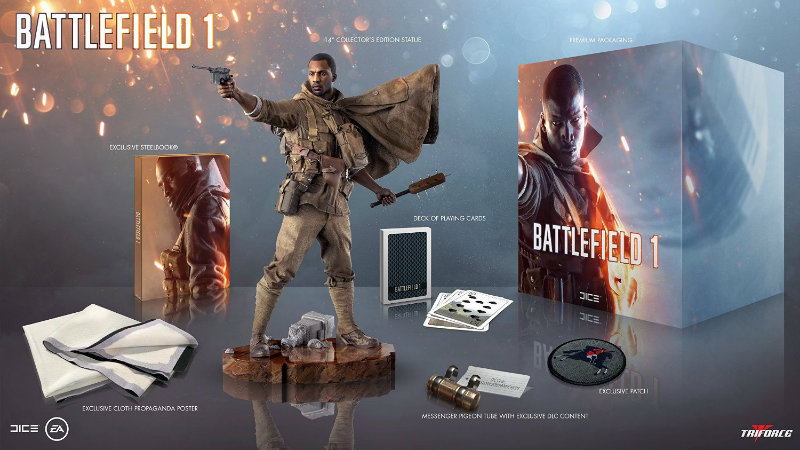 I love a good Collector's Edition. There's something so great about the physical objects it comes with – a map, a statue, a steel book, a novelty item based on the game. They can all make me so very happy. However, I often get upset by them, too. If I fork out a ton of money for a Collector's Edition, I'm obviously a big fan of the game. Why, then, don't those gorgeous, enormous boxes also include the season pass? It feels so greedy to me. Well, now it has gotten even weirder as Amazon shows off a Collector's Edition that doesn't include the actual game.
The Battlefield 1 Collector's Edition is pretty cool – you get a statue, a cloth poster, a patch, a deck of cards and a messenger pigeon tube filled with DLC code. It's a nice array of collectibles and I'm sure fans will love to dish out their cash for it. However, Amazon has a new option. You could pay $190 for the standard edition, $210 for the deluxe version, or $130 for the version without the game.
I get it, this is for people who plan to buy the game through other means but still want the swag. Maybe they prefer to purchase digital versions of games so that they don't have to change discs, but they still want the cloth poster and statue. Or maybe someone has already organized to buy the game for them, and this is an added extra that they will purchase for themselves. After that brouhaha over the different Destiny versions of The Taken King, it makes sense that developers offer upgrade versions for those who maybe already pre-ordered a game digitally or might be receiving a copy of the game through other channels. It just seems weird to me that we are now at a point where retail outlets will sell Collector's Editions that don't include the actual game.
At least this means I should be able to pre-order Mass Effect: Andromeda when it becomes available digitally – I can always purchase the Collector's Edition swag later on down the line, right? That's how this works now, I guess.
Last Updated: August 8, 2016