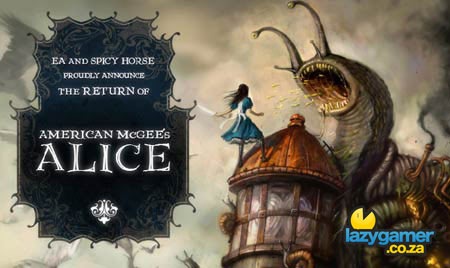 I have just recently started following gaming journalist Geoff Keighley ( Host of Spike TV) on Twitter and he had some really interesting news to report from this years DICE.
EA's head honcho John Riccitiello just announced that a sequel to American McGee's Alice is on it's way. If you never had the chance to play the original Alice or have never even heard of it then you have seriously missed out. American McGee took the idea of a twisted fairy tale to a whole new level with Alice by making it one of the most incredibly intriguing yet disturbingly twisted retellings of an old tale that you would ever witness.
A press release has now made it's way into inboxes all over the world, and it has the following to say about the new title, which will be coming to PC, Xbox 360 and PS3:
"This new project is a dream come true for me and the fans who've kept the Alice flame alive," said American McGee, senior creative director at Spicy Horse. "EA gave us creative latitude and support on the original game which resulted in something beautiful and daring. This trip through the looking glass promises to be even more exciting."
"EA Partners is thrilled to team up with American McGee and Spicy Horse on the next installment of the Alice franchise," said David DeMartini, senior vice president and general manager of EA Partners. "American McGee's interpretation of Alice was an instant classic, and EA Partners is ready to help him bring his innovative vision for the franchise to even darker, more exciting places."
If this game is anything like the first then we are all in for quite a treat, albeit a disturbing one.
Last Updated: February 20, 2009