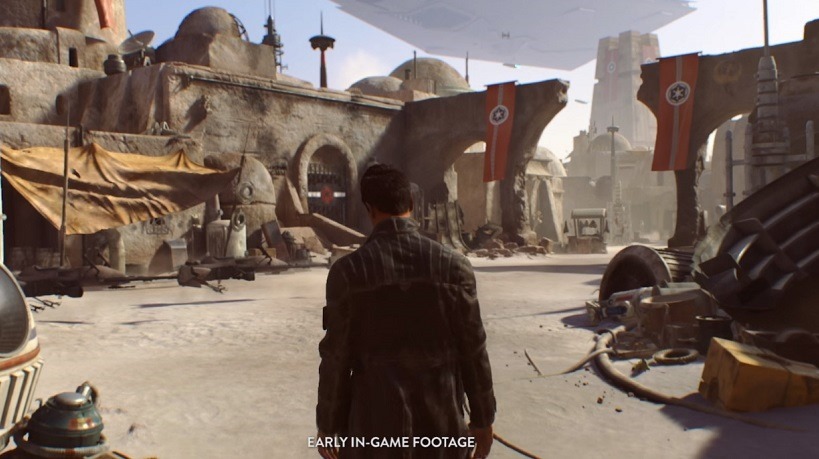 Star Wars is being brought back into videogames in a big way, with EA planning a full schedule over the next few years with flagship titles in each. Next year sees the launch of a brand new Battlefront title, while 2018 belongs to Visceral. The former Dead Space developers (now helmed by Uncharted Director Amy Hennig) are hard at work on a brand new Star Wars IP, and Henning herself was at PAX West to talk about it. Briefly.
Considering there's a lot about Visceral's Star Wars game isn't set in stone, Hennig was careful to talk about specifics at a panel over the weekend. Instead, the former Uncharted writer focused on some of the challenges Star Wars as an IP presented when being adapted into a videogame, dissecting what the franchise has held dear in the films. Protagonists, for example, are usually presented as the underdogs – which makes for a tricky translation into a game which is meant to feel like a power fantasy.
"Having a lone wolf protagonist wouldn't feel right.

And the other thing is honoring the fact that these characters are underdogs. Especially in a Star Wars story, they're going to always be outgunned, outmatched, outmanned, right? They have to work together and they have to be cleverer than their enemies. Therefore, how do you turn that into gameplay. How do you take that idea and then deconstruct it as mechanics, sequences, that then play to that core principle. That's the challenge of making these kinds of things."
Hennig also touched on the frequent use of villains in Star Wars, and how the films frequently switched from the protagonist's perspective to theirs in order to help flesh out both sides. This is extremely different to the way a game like Uncharted operates, where players are only exposed to the story with Drake. Star Wars films offer us the "privileged observer" perspective, which is difficult to do in games when you're trying to build suspense or bake in surprises.
"One of the challenges from a game design perspective is that this opens things up to the privileged observer problem. When we watch a film, we're the privileged observer, right? We're not the protagonist. Their struggle is illuminated by the things we can see that they don't, right? Suspense and all that kind of stuff.

How do you do that in a game where you're supposed to identify with the protagonist and cut away the things that they don't know?"
It's all intriguing when thought of in the same space, as Hennig and her team seem to be experimenting not with the way we play game, but rather the way in which one's story is told. Holding onto the same styles employed in Star Wars films is bold, and offers up exciting problems for the studio to solve in terms of coherency.
Given that Motive Studios head Jade Raymond already says that Hennig is taking the game in groundbreaking new directions, these seemingly ambiguous statements could be the basis of what Visceral's game really is about. A bold new direction in videogame storytelling while firmly grounded in the Star Wars universe. Consider my interest piqued.
Last Updated: September 5, 2016