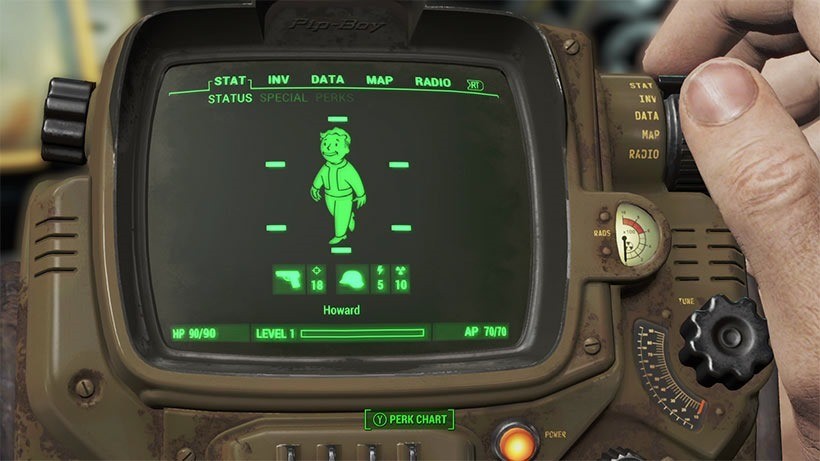 Companion apps, thankfully, have started going the way of the dodo. Even Ubisoft – once one of the biggest publishers to push the things – seems to have realised that nobody bloody uses them anymore, because more often than not, they just get in the way. Assassin's Creed Syndicate doesn't have a companion app, and next year's The Division dropped its planned companion app support in favour of common sense.
In case you've not surmised, I'm not a fan of the things, and seldom play my games with a phone or tablet, connected to said game, sitting beside me. That's changed for Fallout 4.
While the Pip Boy that shipped with Fallout 4 might ultimately be a disappointment, the companion app is anything but. It just works – and it does so independently of the silly, giant plastic bracelet.
Thankfully, I've avoided the temptation to duct tape my phone to my arm, because that app, for whatever reason, makes my Android-based phone overheat and goes through battery faster than I make my way through a pepperoni pizza. I do, however, have the app on my aged iPad 2, where it functions rather well.
I use to switch through inventory on the fly, without having to bring up the in-game Pip Boy, for dropping items and changing radio stations and pretty much everything else you'd use the Pip Boy for, including the map. Unlike many companion apps, the map functionality is fantastic, and doesn't take too long to update, dispensing with the noticeable lag present in most other ones.
I think it works so well because it isn't trying to do anything other than replicate the Pip Boy's basic functionality. I mostly use it as a map that I can use without pulling up the in-game Pip Boy, but do appreciate being able to switch out weapons with a tap – so the app has become indispensable in my playthrough.
Tell us: Are you using the companion app?
Last Updated: November 12, 2015