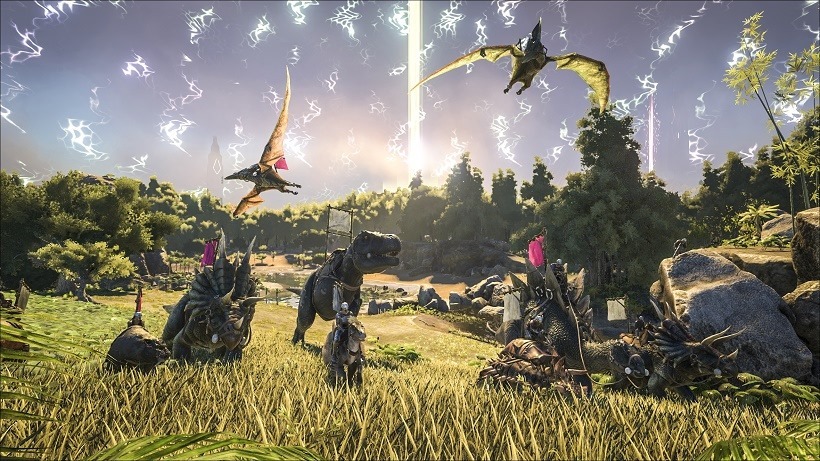 Despite ARK: Survival Evolved not even being officially out yet, its creators, Studio Wildcard, have gone ahead and unveiled a spin-off title. It's called Survival of the Fittest, and it looks like it's taken a whole lot of inspiration from The Hunger Games franchise.
Welcome to ARK: Survival of the Fittest, the first ever M.O.S.A. – a Multiplayer Online Survival Arena – that Studio Wildcard designed for the burgeoning wild west of eSports. A spin-off from the most popular open-world Early Access game on Steam ARK: Survival Evolved, ARK: Survival of the Fittest (SotF) pits up to 72 combatants in an action-packed struggle for survival where players are ultimately pushed into an epic final showdown where only one "Tribe" will make it out alive.
How rad? Survival of the Fittest looks chaotic, competitive, and like a whole lot of fun. I VOLUNTEER AS TRIBUTE!
How did this game come about though? Wildcard are still working on ARK: Survival Evolved, aren't they?
ARK: Survival of the Fittest (SotF) originated as a spin-off game mode which came to be with the release of our development kit. The mode was first available as a Total Conversion game system and debuted worldwide with a 70-person slaughter fest of a tournament. The game mode consists of a large-scale battle which takes place on a modified version of the primal ARK, with the objective being to eliminate all other survivors before they can eliminate you.

Following the success of the first tournament, the game mode was made available to the community and had constant iteration right through til the end of 2015. It was clear that a vast number of survivors, not only enjoyed playing the game mode, but they also enjoyed watching it. The ARK: SotF Team wants to work alongside the community, to make this newly refactored game into an epic dinosaur survival arena.

We already have experience working with in an early-access environment, we know what it entails, and with SotF being born from early-access, it only makes sense for it to continue its growth in this program but on a much grander scale, with it's own team, it's own game and it's own community. Learning from experiences in ARK: Survival Evolved, we know through constant iteration and interaction with the community we can truly develop something special, fun and competitive for all survivors out there!"
So yeah, Wildcard essentially just split themselves up. They will have an entirely separate team working on Survival of the Fittest.
Know what's the best part? It's entirely free-to-play, and it's out now! Will you be downloading it?
Like esports?
Check out esports central
Last Updated: March 16, 2016