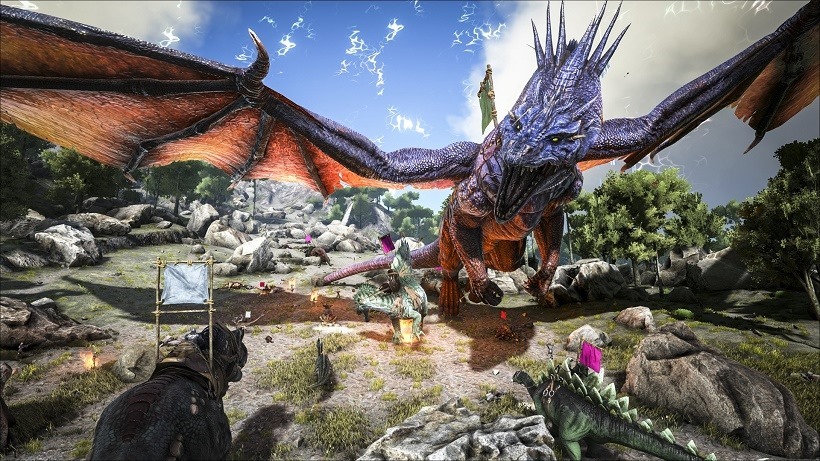 Just over a month ago, Studio Wildcard, the studio behind the stupidly popular, yet unreleased ARK: Survival Evolved, unveiled a spinoff title. Its called Survival of the Fittest, and it's basically a Hunger Games Simulator. That's right, if you've ever wondered what it would be like to volunteer as tribute, and then get thrown into an arena (full of dinosaurs) to be the last person standing, then it's definitely a game you should get around to playing.
I've not yet tried it myself truth be told, which is a darn shame, because it really does looks like an absolute blast. Heck, it's even free to play, so I have zero excuse!
That's just me though. What about you, have you played the game? Do you happen to have survival skills à la Katniss Everdeen? Yes? Well, would you play competitively, for say, I don't know, a share of $40,000?
If so, then perhaps you should consider entering ARK: Survival of the Fittest's Summer Cup. Here's the official press release:
Studio Wildcard, the dev team that created the smash hit ARK: Survival Evolved, unveiled today the first-ever ARK: Survival of the Fittest international competition. Team leaders can register at www.PlayArk.com/summercup between Sunday, May 1 and Tuesday, May 10, then grab their teammates to start competing in the ultimate dinosaur survivor slaughter fest. More than $40,000 in cash is up for grabs at the offline Season One Summer Cup Tournament taking place in Beijing during the China Digital Entertainment Expo & Conference (ChinaJoy 2016)

Skilled players can compete in the "6v6 Tournament Mode" in May and June (7 teams each month), with the 14 highest-rated registered teams receiving invitations to an online Semi Final match on July 1, 2016. The top five International teams from the Semi Final will then advance to the official Summer Cup, traveling to Beijing's ChinaJoy 2016 to play against qualified local Chinese teams. The ongoing "Survival League" rankings for all elite titles in ARK: Survival of the Fittest are visible in real-time on SurviveTheArk.com at launch.
Hot damn, that sounds awesome. I don't think I'm worthy of winning any of that money mind you, but I'd happily watch other gamers compete for it. Survival of the Fittest really does seem like an unusual eSports title. I'd imagine it must be damn entertaining to watch!
Like esports?
Check out esports central
Last Updated: April 25, 2016