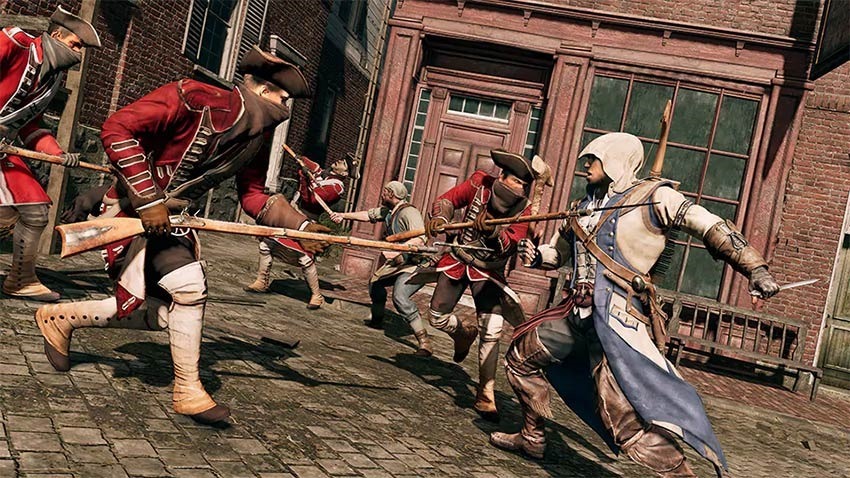 For whatever reason, Assassin's Creed III has been remastered. It was a divisive game for many, and I was one of the people who really didn't like it very much when compared to its predecessors, and doubly so when compared the game that came after, Black Flag. Assassin's creed III just tried to do too much, I think, becoming a hodgepodge of tangentially-related ideas that didn't quite coalesce into a great game.
Much of that criticism also comes from the stoic, dull as a houseplant protagonist Connor. When he wasn't incredibly boring, he was incredibly whiny, and coming after the bait-and-switch with the irrepressibly smarmy Haytham Kenway didn't really help. The game is set in pre-revolutionary war America in the 18th century, which means the hero trades tall buildings for treetops and smaller structures. Here's what I said of the game when it was first released over six years ago:
"I can't recall a single other game that's instilled within me so many conflicting emotions and thoughts, forcing me to catechise myself and wonder whether or not I actually experienced much in the way of fun. Monumentally ambitious, Assassin's Creed III, the final chapter in a 5-game arc, is equal parts shining brilliance and bug-infested boredom."
Anyway, the remaster of the game features 4K presentation along with HDR, as well as gameplay improvements, which should hopefully make it more fun to play. The remastering also includes all of the game's original DLC. Alongside that remaster is a remaster of PlayStation vita game Assassin's Creed 3: Liberation Remastered. While the package will be available to purchase on its own, the pair of games is also included as an extra to those who bought Assassin's Creed Odyssey's season pass.
Announced in September, the remasters will be available on March 29 on PC, PS4 and Xbox One. A switch version was rumoured, but doesn't seem to be real. Either that, or the announcement is coming later.
It certainly looks better, but I'm not sure I want to return to Boston for this.
Last Updated: February 7, 2019