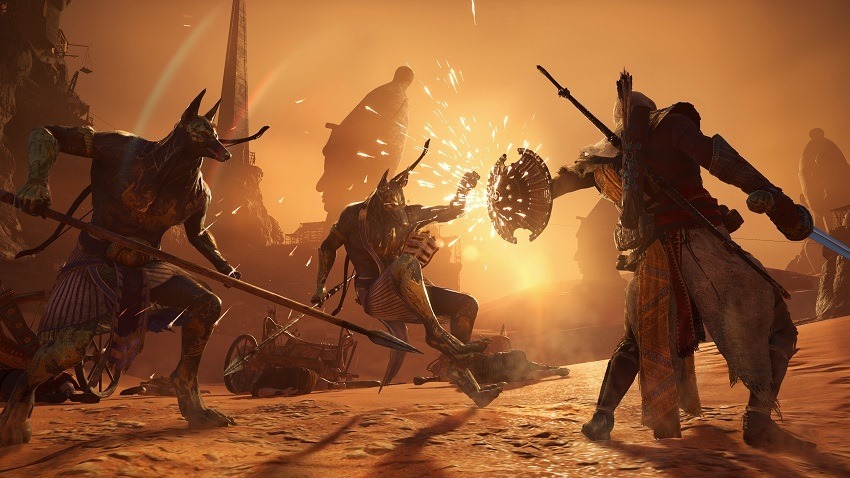 Assassin's Creed Origins was a return to form with a strong, personable protagonist and a slightly more down to earth story about revenge and heartbreak. The DLC, on the other hand, is all about over the top antics. There have already been weird tie-ins with the likes of Final Fantasy (which introduced the Ultima Sword and a weird Chocobo Camel, to name a few), and the game's second piece of DLC maintains that standard. Dead Pharaohs are coming for Bayek in Thebe, and it all looks suitably silly in the first 15 minutes.
Courtesy of IGN, you can check out the opening to the DLC below. Bayek is in Thebe looking for an ancient artifact that was probably buried with some past kings and queens that didn't want to be woken early. Ignoring the snooze buttons, a band of thieves have ransacked some of the ancient tombs, opening up a curse that lets these past monarchs return in grotesque undead fashion. Assassin's Creed Origins has zombies, which seemed like it was only a matter of time.
These new undead enemies present some new challenges to Bayek, especially those whose names you might have heard before. Pulled from tombs in the famed Valley of the Kings, several notable Pharaohs will come and go as they please. A single fight won't be enough to put them down either, creating many thorns in Bayek's side for him to deal with while also trying to put a lid on this curse business once and for all.
It looks like the sort of weird detour needed to get you back into Egypt once again, if only for that great combat and gorgeous setting. Curse of the Pharaohs is out today, and you can check out the launch trailer below.
Last Updated: March 13, 2018