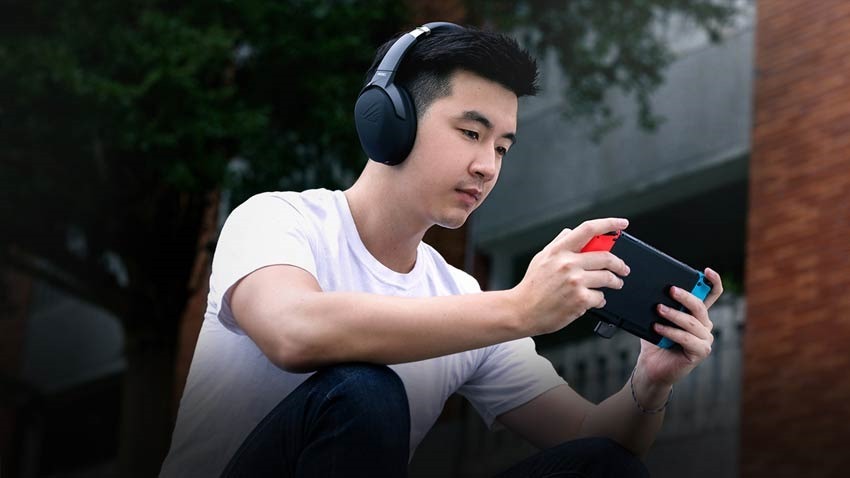 AI – that's Artificial Intelligence – the current tech industry buzzword, and it's being integrated into just about everything. Now ASUS has announced that they'll be using AI to…improve the quality of the microphones on their headsets?
To be fair, most headsets don't have especially good microphones. Even with their noise cancelling features, they tend to pick up mouth breathing, keyboard clicks (especially in an age of mechanicals), fans, barking dogs and all sorts of other annoyances that we'd rather not broadcast to our friends' ears over the internet. ASUS' freshly announced ROG Strix Go 2.4 uses AI to make the mics better, but has a few other tricks up its sleeve.
While it comes with a 3.5mm cable to allow you to attache it to just about anything that still has an audio jack, it also ships with a USB C wireless module, offering up 2.4GHz wireless connectivity to phones, an undocked Nintendo Switch, a capable PC and anything else that uses the newer plug. The direct 2.4GHz connection means ASUS can avoid the latency issues that plague many Bluetooth sets without the need for fancy low latency codecs. The headsets also support Hi-Res Audio, but only when connected with a cable, which suggests to me that the wireless bitrate just sibt enough to make the Hi-Res standard, which requires around 990kb
It's got quick charge, giving three hours of use from 15 minutes of charge, while a fully-charged set will get you around 24 hours of usage. Not bad. The boom mic is detacheable and removable, but if you want to use it in public there's still a concealed mic so you can chat to your friends without looking like an absolute pillock in public.
The microphone is still the most interesting bit though.
"ROG Strix Go 2.4 is engineered with industry-leading, AI-powered noise-cancelling technology for crystal-clear in-game voice communication. The algorithm draws on a massive, deep-learning database to accurately identify and counteract environmental noises. The upshot is that everything from keyboard clatter to background human chatter is virtually eliminated – ensuring crystal-clear in-game voice communication with your teammates. This main boom mic is bidirectional, detachable, and certified by leading communication providers, including Discord and TeamSpeak."
According to the samples on ASUS' website, it seems to work too – but I'd love to test that out myself.
Last Updated: November 22, 2019