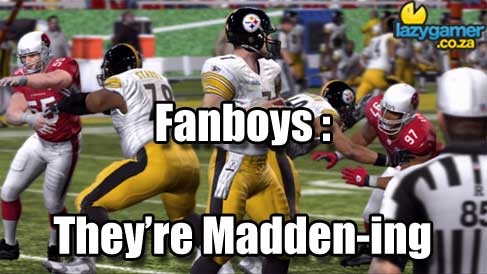 6 Months. That's how long the videogame industry has been really feeling the pinch of the global recession as far as sales are concerned. Particularly upset by the downturn is EA's John Riccitiello, who said it is "discouraging that one of our highest-rated and best-marketed 'Madden' titles in years is facing strong headwinds."
Despite EA's obvious disappointment, Madden NFL 10 was still the month's biggest selling title, shifting a combined total of 1,593,000 units across both awesome current-gen platforms. Other top sellers were Wii Sports Resort (754,000) and Batman Arkham Asylum, which almost attained platform sales parity, with the 360 version selling just 13 thousand copies more than its PS3 counterpart's impressive 290,000 copies. The Joker challenge rooms were probably quite a drawcard, considering each console's respective installed userbase .
On the hardware side – disregarding handhelds – the Wii is still out in front – but it's interesting to note that Xbox and PS3 monthly sales are creeping ever closer to to the Wii's, which used to outsell both combined. Both HD consoles received mid-month price cuts – but you wouldn't really know it looking at the sales data.
Next month's NPD data will be more telling, as it'll include PS3 slim sales as well – which as we all know has increased PS3 sales by roughly 1.21 jiggapercents!
Hit the jump for the August NPD figures.
August 2009 Hardware Sales
Nintendo DS — 552,900
Wii — 227,400
Xbox 360 — 215,400
PlayStation 3 — 210,000
PlayStation Portable — 140,300
PlayStation 2 — 105,900
August 2009 Software Sales
Madden NFL 10 (360) — 928,000
Wii Sports Resort (Wii) — 754,000
Madden NFL 10 (PS3) — 665,000
Batman: Arkham Asylum (360) — 303,000
Batman: Arkham Asylum (PS3) — 290,000
Madden NFL 10 (PS2) — 160,000
Dissidia: Final Fantasy (PSP) — 130,000
Wii Fit (Wii) — 128,000
Mario Kart Wii (Wii) — 120,000
Fossil Fighters (DS) — 92,000
Source : Examiner
Last Updated: September 11, 2009