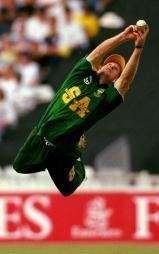 Finally cricket is returning to our consoles, granted it's not the biggest sport in the world but we love it and now it has been announced that it is returning.
EA Games Canada has been tasked with the job of recreating the true sport of Kings on all platforms and we can most likely expect to see the next version in time for the start of the next cricket season.
Now I don't know if it's just me but wouldn't it make more sense for the game to be developed in a true cricketing country like South Africa, Australia or if we're desperate… England?
If all goes to plan then EA Cricket will be hitting all platforms and would obviously be a big hit on the Nintendo Wii…
Source: Kotaku
Last Updated: February 13, 2009