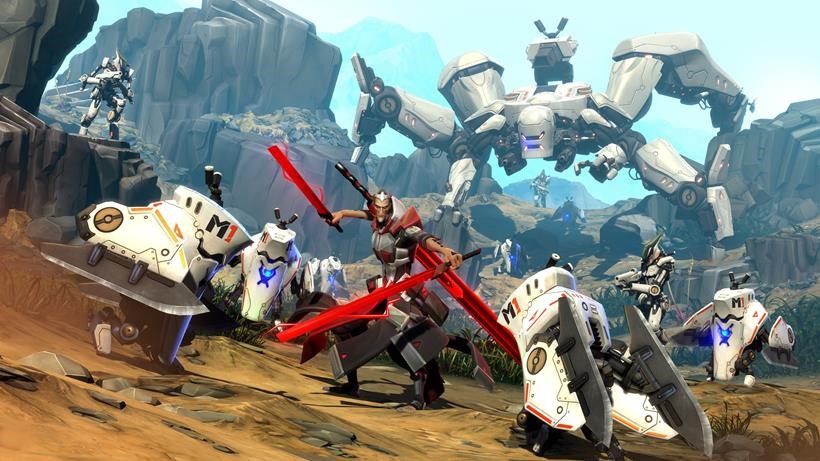 Every game is a risk these days. There's no title on the market (Unless it rhymes with Small of booty, Tifa and Duper Fabio) that is guaranteed to bring in the biggest of bucks. And that applies to games from veteran studios, such as Gaerbox's upcoming Battleborn. On the surface, it looks good. Highly competitive action, various heroes to choose from and plenty of that Borderlands DNA thrown into it. But it's still a game that CEO Randy Pitchford has described as a "big bet".
"We've invested more than Borderlands 1 and 2 added together into Battleborn," Pitchford said to Polygon (via GameSpot), explaining how the emergence of similarly colourful shooters such as Overwatch and Gigantic was making the space more competitive.

And we don't even know if people will be interested or not.
When other people started showing up with things that touched on it, it actually motivated us. First, there's some competition, which is a fun challenge. But also, wow, those guys are really smart, too and they think there's something here. Maybe we're not crazy after all; maybe there's a customer for this game.

It's challenging, too, because no one is doing quite what we're doing. Most people are using a free-to-play angle or some other stuff. But we make AAA–you spend your money and you know you've got a full product and a valuable product and you've got a full experience there.
Said experience will include a "big, robust campaign," Pitchford said, as more details on Battleborn are still to be revealed ahead of the May launch. Right now, Battleborn has consumed 80% of Gearbox's 300 staffers, with the rest working on other existing IPs and new projects. Projects such as a new Brothers in Arms game that is knee-deep in the early stages of development.
"There's the Brothers in Arms game that it deserves to be and that's–if we announce it, when we announce it, it will be because we figured that out and we're ready to actually say, 'Here's a product,'" Pitchford said.

I don't have a product yet. We have ideas and we do pre-production and concept development.
If there's one advantage that Battleborn does have, it's that it's going to be the first out of the gate in the arena-shooter genre this year, way ahead of Overwatch, Paragon and Lawbreakers. Hopefully some of that immensely satisfying Borderlands gunplay has rubbed off on it, because I'll take whatever I can get until Borderlands 3 finally arrives.
Last Updated: February 24, 2016