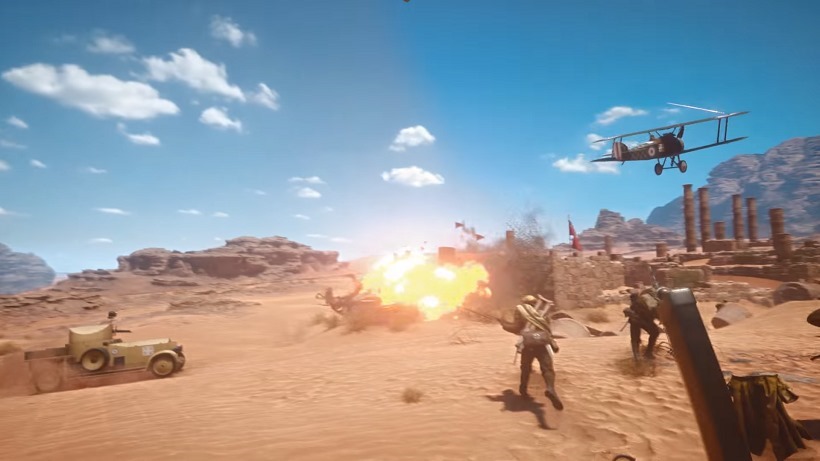 Battlefield 1 is taking first-person shooters way back in time for one of the first times this generation, and so far what DICE and EA have shown has been pretty impressive. Leveraging the full power of their Frostbite Engine, Battlefield 1 is transforming some of the most well-known battlegrounds of the first world War into gorgeous spectacles. Massive open areas ripe for battle, but ones with a lot more colour to them than you might expect. Just like the Sinai Desert.
That's the backdrop for the shooter's latest trailer, which zooms in on the desert warfare in anticipation for the upcoming multiplayer beta. The beta will only feature this one map, offering ground skirmishes, horseback engagements, aerial dogfights and a massive armoured train that just looks like a headache to deal with. That's if you're able to pull yourself away from admiring the gorgeous visuals, which aren't skimped on for a second in the video below.
The beta will go live across PS4, Xbox One and PC on August 31st, with Battlefield Insider members getting a slight head start. You're free to sign up to Battlefield Insider until August 21st to qualify, although EA didn't exactly make it clear how much of an early start you'll receive. There's also no end date for the test yet, but it's likely to last a week or two.
The Battlefield 1 beta will feature two game modes that any Battlefield fan should be familiar with. The classic 64-player Conquest Mode will likely be just as chaotic as the trailer above, while less adventurous players can engage in the 24-player Rush mode instead. Both are staples in the Battlefield roster, and should do a fine job of showcasing some of the changes DICE is introducing.
But if you're more interested in Battlefield 1's single-player (like I am), you're going to want to stick around until the end of the trailer. There's a small glimpse of the female combatant from the first reveal trailer, with an unnamed assailant taking her down. He then says, "The legend of Lawrence of Arabia dies tonight," before the woman overpowers and kills him with a sword. Considering Battlefield 1 will have you jumping between protagonists, it's likely we've just met one of them.
Battlefield 1 is out this October.
Last Updated: August 16, 2016