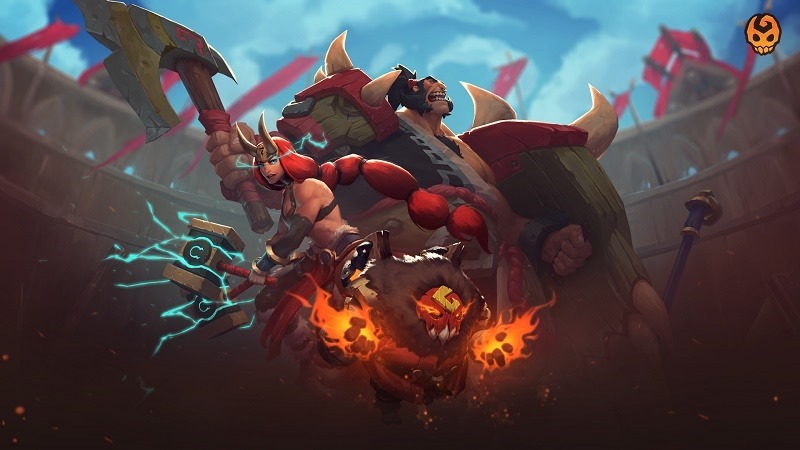 Back in September, I wrote about a game called Battlerite storming its way to the top of Steam charts. I knew nothing about it at the time really, but a mixture of both curiosity and MOBA withdrawals lead me to buying into its Early Access. That's something I very seldom do.
And I tell you, I've had no regrets. I've sunken several hours into Battlerite, and I'm looking forward to seeing how it develops over the coming months.
Its developers, Stunlock Studios are already hard at work adding new content to the game. A new Halloween update for example, will not only introduce a plethora of cool new cosmetic content, but also, two brand new champions (via PC Gamer). Here's a sneak peek of the latter:
The Beast Hunter
Jumong, The Beast Hunter, is a trophy collector who wandered the wildlands in pursuit of a worthy challenge. No longer content with hunting the great beasts of this world, Jumong looks to the arena for a new type of prey. He traps his foes and brings them to their death with the accuracy of his mighty bow.
The Crypt Warden
Ruh Kaan, The Crypt Warden, was awoken from his deep slumber when a grave robber disturbed the sacred crypts of Ark'dun. Pursuing the trespasser led him to the Arenas, where he still tracks his quarry. A wielder of dark powers, Ruh Kaan consumes the souls of those who stand in his way.
On top of all this, the Halloween update also includes a plethora of tweaks and adjustments to the already existing cast of champions. It's all far too extensive to list in this article unfortunately. If you'd like to read up on everything in more detail, I'd suggest you do so right here.
Anyhow, when I first wrote about Battlerite, it had only sold around 25 000 copies or so. That number has swelled significantly over the past month. According to SteamSpy, it now sits at an unbelievable 300 000 or so!
There's a reason for that. From my brief time with it, I can say that Battlerite is awfully addictive, and something I think that everybody should consider playing. I look forward to sinking many more hours into it myself.
Last Updated: October 21, 2016