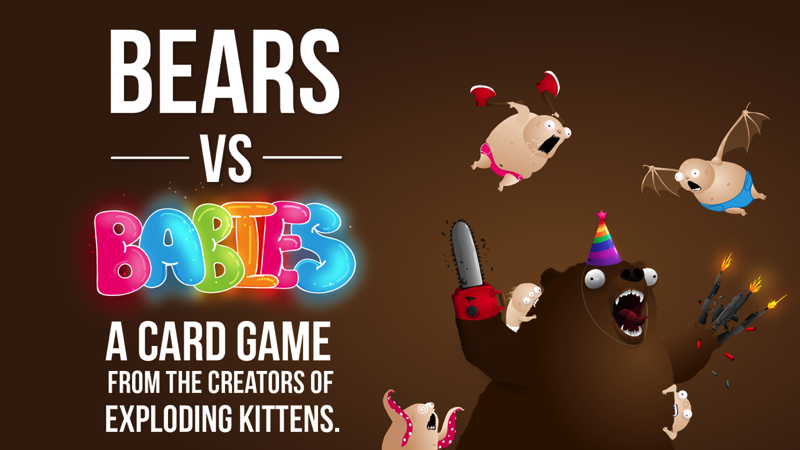 I backed Exploding Kittens, and it has become one of my board game evening staples. Games are quick and ridiculous and a lot of fun. It's sort of to be expected, though – it's got humor from The Oatmeal combined with fun and easy to learn card gaming. And now he and Elan Lee have teamed up again for another bizarre game.
This one is called Bears vs Babies, and as far as I can gather, it looks equally strange and wonderful. Players take turns picking up cards. The cards are either used to construct bears, or to build a baby army. Then the baby army is provoked and attacks the whole table of players. Whomever eats the most babies by the end of the game, wins. Here, it's even cooler when The Oatmeal explains it.
At this moment, the Kickstarter has raised $2 175 614 of it's original $10 000 goal. So yeah, it's ridiculously funded and will definitely be happening. However, just like last time, there are really fun stretch goals that are more about getting people involved than they are about getting more money. The team has even asked people to stop giving them money! Instead, they want hilarious pictures of people doing things with babies and bears, like this godawful nightmare fuel I submitted that's a face swap of me with my adorable baby.
The #BearsVsBabies requested face swap is pure nightmare fuel! @BearsVsBabies pic.twitter.com/9kW4TVKQxz

— Zoe (@Moonstormer) November 4, 2016
Much like last time, the NSFW deck is way more popular than the core deck, getting 52 989 and 4 709 backers respectively. I'm hoping that unlocking enough stretch goal challenges will result in yet more NSFW rewards, although I'm also happy if they make a cool box again, or some other unique reward.
Bears vs Babies is expected to ship around June of next year, and is sure to be a lot of fun whether you have babies, bears or neither. If you want to back it and get one of your own, you can do so over here for the next two weeks.
Last Updated: November 4, 2016