Earlier iterations of Quake were seen as the starting point for the competitive FPS genre and an idea which sparked the whole idea of paid gamers in competitive gaming. It wasn't until a few years later that the term "esports" was coined and by then the stage was held by Starcraft. Nonetheless Quake remained a top tier esport giving us years of competitive players who still compete today. With that in mind, it's no surprise that Bethesda are hoping Quake Champions will be their entry into the esports scene and offer a "large presence."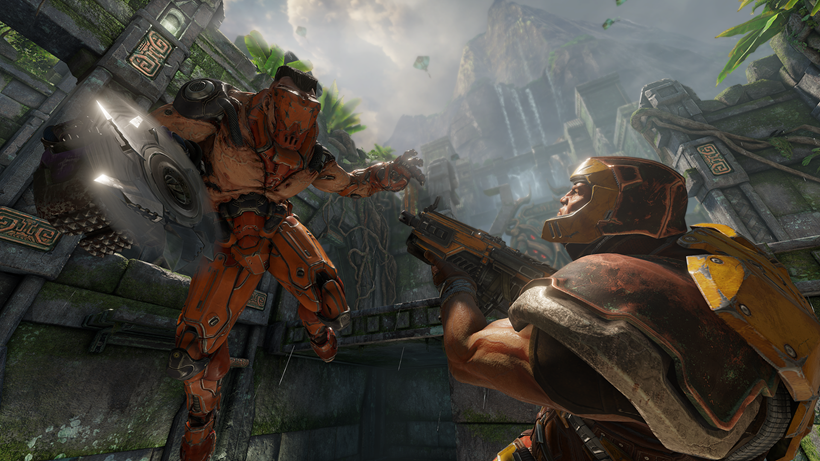 There are a number of factors which determine whether a competitive game, with competitive hopes, will become a success. One of those factors is largely based on the determination from the developers and publishers themselves. Take either Valve or Blizzard and see the success of their models and understand this is one of the largest factors, coupled with community interest. Quake Champions is entering a crucial phase in the next few weeks as closed beta begins. Players will have their first taste of the game on a large scale, as well as testing the competitive nature of the multiplayer.
id Software creative director Tim Willits spoke to Russian site GoodGame.ru about their goals for competitive gaming and an esports presence.
"We are committed to having a large e-sports presence," he said. "We want to make a game that is esports-friendly, spectacular, with different spectating features and we want to have game modes that are esports-friendly, and we feel, after talking to a lot of pro players, that the one-versus-one (Duel) is something that is missing in the first-person esports scene. As well as one esports game mode which we're currently working on (Sacrifice) based on a feedback from some number of pro players. So yes, we are very, you know, we are very focused on e-sports."
There's a sad truth to be told here, and it's one which is still upsetting to this day. Duel, or 1v1, esports titles are not as popular as they once were. Take the original Quake, starcraft, and other 1v1 games and see how they fair against the overwhelming popularity of team-based games. This is why Quake Champions will have the Sacrifice gamemode to offer a team-based alternative to the 1v1 duel. Naturally there will be a market for the 1v1 if Quake do things right, but team games are all the hype these days and this could be their time to establish a presence in the esports scene.
Like esports?
Check out esports central
Last Updated: March 27, 2017