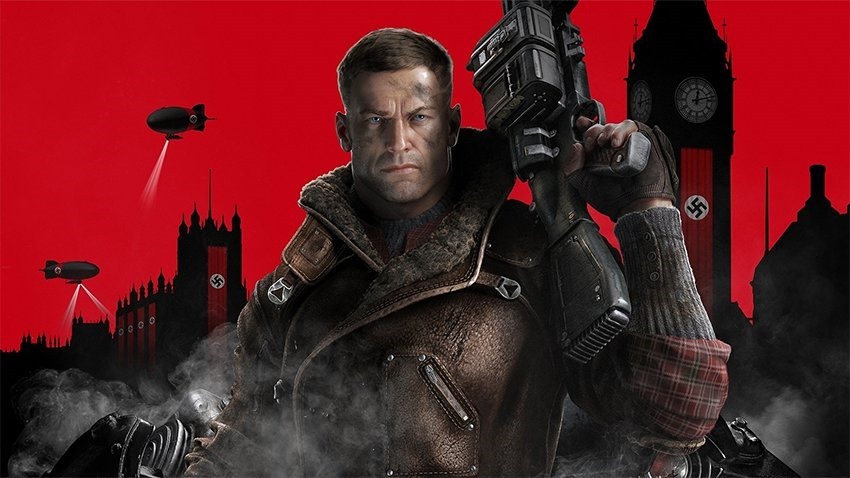 Bethesda has serendipitously stepped into the best marketing campaign imaginable for its upcoming Wolfenstein II: The New Colossus. With the rising tide of right wing extremism in the US, where actual Nazis are emboldened enough to walk through the streets without fear of consequence or repercussion, Wolfenstein's alternate history where the Nazis won the Second World War makes our own reality seem like a disturbing convergence of timelines.
Last week, the official Wolfenstein Twitter account tweeted out a simple message saying "Make America Nazi-Free Again."
Make America Nazi-Free Again. #NoMoreNazis #Wolf2 pic.twitter.com/52OESypw4P

— Wolfenstein (@wolfenstein) October 5, 2017
Somehow, because this is the world we live in now, this was seen as a controversial statement. Somehow, a game series that has always been about ridding the world of Nazis is pandering to a leftist agenda. Obviously, that's a load of codswallop.
Speaking to Gamesindustry.biz, Bethesda marketing guy Pete Hines quite rightly said that "it's disturbing that the game can be considered a controversial political statement at all."
"We're certainly aware of current events in America and how they relate to some of the themes in Wolfenstein II," he told GamesIndustry.biz.

"Wolfenstein has been a decidedly anti-Nazi series since the first release more than 20 years ago. We aren't going to shy away from what the game is about. We don't feel it's a reach for us to say Nazis are bad and in-American, and we're not worried about being on the right side of history here."
Of course, the current Wolfenstein run and its story arc existed before the current US political climate, so those claiming that the series is pandering to an agenda – or are somehow upset about messaging that considers Nazism as bad – probably need a little introspection.
"At the time none of us expected that the game would be seen as a comment on current issues, but here we are," Hines says. "Bethesda doesn't develop games to make specific statements or incite political discussions. We make games that we think are fun, meaningful, and immersive for a mature audience."

"In Wolfenstein's case, it's pure coincidence that Nazis are marching in the streets of America this year. And it's disturbing that the game can be considered a controversial political statement at all."
Wolfenstein II: The New Colossus is out on October 27. I can't wait to shoot some Nazis.
Last Updated: October 9, 2017