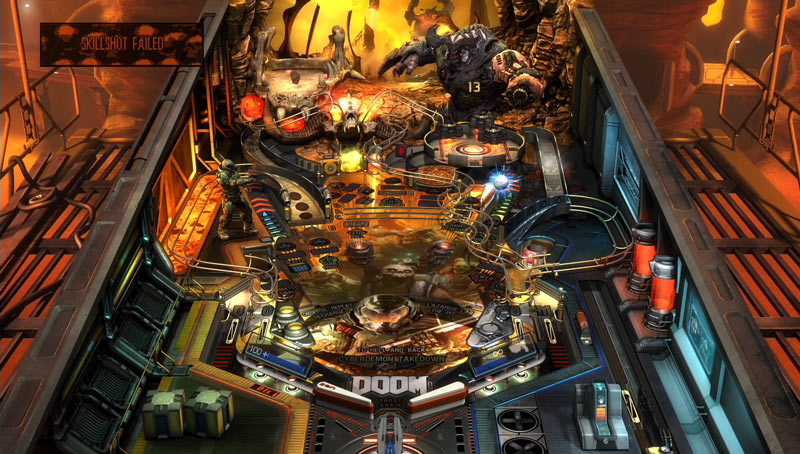 Pinball. It's the great equaliser, a game that just about anyone can enjoy, regardless of skill. One ball, two bumpers and a sensor that'll quickly call game over on any tilting shenanigans. What's not to love? But beyond the actual game itself, I've always considered pinball tables to be works of art. Bright lights, colourful visuals and some absolute wizardry in somehow creating small snippets of iconic movie scenes on a tiny LCD screen.
The years have gone by, and pinball is still alive and well. Zen Studios have done particuarly well in this genre, regularly rolling out new themed tables from a wide variety of media that includes The Walking Dead, Family Guy and a whole library of Marvel heroes just to give you an example. But whereas most other studios with that level of licensed responsibility would be content to slap a generic skin on a table and call it a day, Zen Studios always goes above and beyond when they're handed the keys to a beloved property.
Something that is more evident than ever before, with their new Bethesda pinball tables.
Fallout
I may not have dug the survival aspect of Fallout 4 last year, but this franchise still makes for one heck of a fun table. It's the smallest board on offer in this trio, but it's one that happens to be fraught with danger, radiation and super mutants. Even better, upping your score and landing a ball in the right zone will allow you to change factions, earn perks and enter vaults.
Throw in some boss fights, bobbleheads and companions, and you're set to explore Boston all over again.
Skyrim
While the Fallout table may be a small slice of Boston, the Skyrim table is huge. There's even a hidden table that requires some deft bumper-control, but you're going to need to survive dragons, earn gold and regularly deal with multi-balls. Just call me Dova-Tilt, the Pin-Borne.
DOOM
Easily the crown jewel of this trio, the DOOM table is my favourite. It's decently sized, boasts hellish colours and even has a few familiar voice actors chiding you when your ball controls prove to be less than adequate. Teehee. But by and far, DOOM is pinball at its best. It has a theme, runs wild with it and the overall presentation looks like something that deserves to be displayed in the Louvre if they had a wing dedicated to Iron Maiden album covers.
Now that's a hell of a table. You can grab more like this, from the Zen Studios Pinball game that can be downloaded on consoles.
Last Updated: December 1, 2016