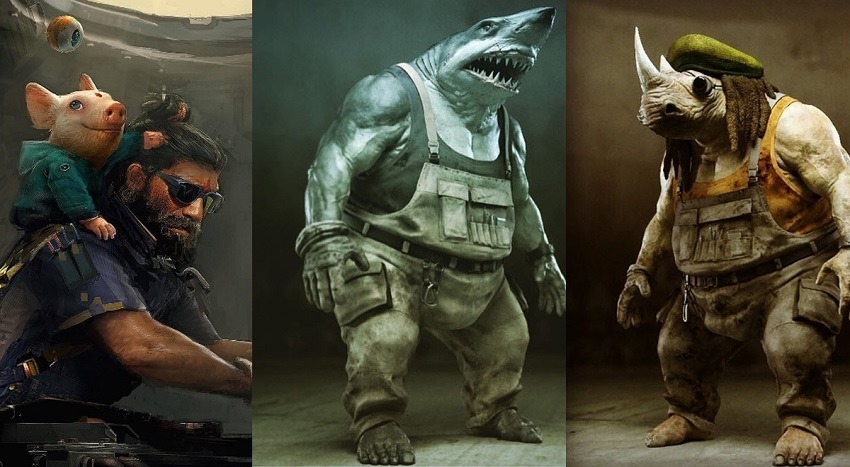 Ubisoft's press conferences are known for some awkwardly staged multiplayer sessions and some hosting oddities from time to time, but they're also pretty famous for the surprises they have in store at the very end. I still to this day recall Watch Dogs being revealed for the first time, and how it completely caught everyone off-guard. Since then Ubisoft has been pretty consistent with those surprises, and the gambler in me would put money on it being Beyond Good and Evil 2 this year. I clearly would have lost money.
Beyond Good and Evil 2 is in development, when know that for sure. But it seems creator Michel Ancel doesn't think E3 is the best place to debut the eagerly anticipated sequel. Replying to a fan on Instagram (of all places), Ancel seemed to indicate that while the game certainly will be shown sometime this year, it would skip the pomp and circumstance of E3 entirely.
Ever since Ancel teased fans with concept art last year when the project was formally announced, news on Beyond Good and Evil 2 has dried up. There's still speculation that the game will launch as a timed-exclusive for Nintendo Switch, and Ubisoft's commitment to the platform already could very well support that.
But E3 would've been a good place to show that off finally, especially since it's been the one announcement fans have been praying for year on year. It also leaves the door wide open for an entirely new surprise. Ubisoft has been a leaky ship, with Mario + Rabbis Kingdom Battle and the new Assassin's Creed slipping out a little early. But will they have one big "and one last thing" at the tail end of their show? Who knows now.
Need more E3 in your life?
Check out our E3 2017 portal powered by Megarom Games and PlayStation
Last Updated: June 4, 2017