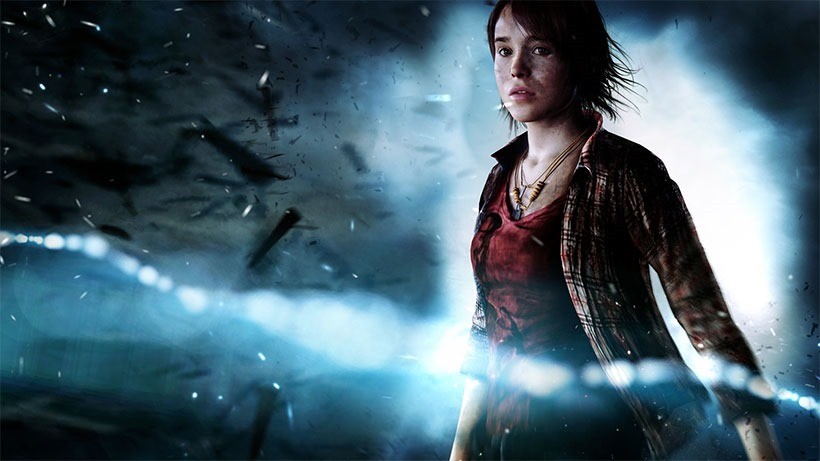 Next week, PlayStation 4 players will get sapped in the face with more digital emotion than they can handle. The PlayStation blog has announced that Quantic Dream's Beyond: Two Souls – David Cage's weird, sometimes creepy digital shrine to Ellen Page – will be available for you to download.
It's a pretty good game, and is graphically rather impressive – but in my opinion, it veers off the deep end towards it conclusion – and never quite has the emotional gravitas that David Cage intends it to.
In my review, I said that the game had a certain flair, but probably needed to be on next gen system to be fully appreciated. Willem Dafoe needs all that power.
"While Cage's writing may be suspect, his keen eye for visuals is appreciable. He certainly has an incredible talent for cinematography, and some of what you'll see in Beyond is downright mesmerising. He's equally adept at creating moods, and fuelling tension –  but I really wish he'd reign it in, open up and let somebody else in on his editorial process. His ambitious stories are always always let down by circumstantial irregularities and plot holes you could fit entire solar systems into.

Much noise has been made about the game's extensive motion capture – and for the most part it's incredible, with the system capturing every nuance of the actors' performances. At least, when it comes to Jodie and Nathan, that is. Side characters often lack the same fidelity and detail and range of facial expression, creating quite a disconnect. Animation though, is still not quite there, so the game tumbles in and out of the uncanny valley, making the juxtaposition of realistic movement on what looks like puppetry quite jarring. It's still one of the best looking games on any console right now, though if you stare at it for long enough, the cracks appear, and the need for next-gen becomes all too apparent."
Well, it's finally going to be available on new consoles, so we'll get to see how much of an improvement it really is.
Here's what sets it apart from the old-gen version. It'll be available on the PlayStation store for $29.99, with no indication of its local price just yet.
Enhanced 1080p graphics including motion blur, bloom and depth of field effects, as well as improved lighting and shadows. The game also makes use of the DualShock 4 speaker to improve immersion when playing as the Entity.
Decisions are highlighted at the end of each scene and compared with those made by other players.
You can now play the game in chronological order right from the start – a much requested feature in the PS3 version!
Increased difficulty in certain fight scene, combined with improved controls for action sequences.
Includes the "Enhanced Experiments" DLC.
Quantic Dream's better PlayStation 3 game, Heavy Rain is coming to the Ps4 in March next year, and there'll be a retail pack which includes both games. I can't recommend buying that though, because nobody can handle all of that emotion.
Last Updated: November 20, 2015