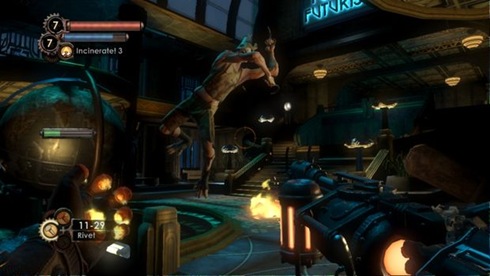 I just received a press release in my inbox proclaiming the release fo Bioshock 2's multiplayer details.
Unfortunately that wasn't quite the case but it did contain some small information about the upcoming multiplayer version of Bioshock 2.
Thankfully, by the sound of it we are not going to be prancing around Rapture in Big Daddy outfits but rather as Plasmid test subjects which would mean we could be any sort of human with special powers.
Another interesting point is that we are going to be able to step into the shoes of Raptures citizens before the fall of Rapture for some reason for another… I am still not convinced that BioShock 2 is going to be as good as the first one but I am happy to give it a fair go…
Check the full press release after the break.
FOURWAYS, SOUTH AFRICA – 11th May 2009 – Megarom Interactive (Pty) Ltd., one of South Africa's leading interactive video game importers and distributors, today announced that 2K Games, a publishing label of Take-Two Interactive Software, Inc. (NASDAQ: TTWO), announced today that it has signed a partnership with Digital Extremes to develop the multiplayer experience for BioShock® 2. Under this partnership, Digital Extremes is working closely with the creative team at 2K Marin to develop a new and substantial element that enhances the lore and fiction of the BioShock universe.
"The fans asked for a multiplayer experience and we answered," said Christoph Hartmann, president of 2K. "With Digital Extremes delivering a multiplayer experience for BioShock 2 that features all of the things that make BioShock unique, we're holding ourselves to a high standard so that we can deliver the depth and variety that fans of the BioShock universe demand."
Multiplayer in BioShock 2 provides a rich prequel experience that expands the origins of the BioShock fiction. Set during the fall of Rapture, players assume the role of a Plasmid test subject for Sinclair Solutions, a premier provider of Plasmids and Tonics in the underwater city of Rapture that was first explored in the original BioShock. Players will need to use all the elements of the BioShock toolset to survive as the full depth of the BioShock experience is refined and transformed into a unique multiplayer experience that can only be found in Rapture.
Key features:
Evolution of the genetically enhanced shooter – Earn experience points during gameplay to earn access to new Weapons, Plasmids and Tonics that can be used to create hundreds of different combinations, allowing players to develop a unique character that caters to their playing style.
Extend the Rapture fiction – Players will step into the shoes of Rapture citizens and learn more about the fall of Rapture as they progress through the experience.
See Rapture before the fall – Experience Rapture before it was reclaimed by the ocean and engage in combat over iconic environments in locations such as Kashmir Restaurant and Mercury Suites, all of which have been reworked from the ground up to deliver a fast-paced multiplayer experience.
FPS veterans add their touch to the multiplayer experience – Digital Extremes brings more than 10 years of first person shooter experience including development of award-winning entries in the Unreal® and Unreal Tournament® franchise.
BioShock 2 is currently in development at 2K Marin, 2K Australia and Digital Extremes for PLAYSTATION®3 computer entertainment system, the Xbox 360® video game and entertainment system from Microsoft and Windows-based PC. This title is not yet rated by FPB.
About Digital Extremes
Founded in 1993 by industry visionary, James Schmalz, Digital Extremes ranks as one of the world's top independent development studios in the interactive entertainment industry. The Canadian based developer is known for its high quality, technologically innovative productions such as the co-creation of Epic Games' multi-million unit selling, Unreal® franchise, including the award-winning Unreal, Unreal Tournament and Unreal Championship brands; the technical marvel, Dark Sector® utilizing the proprietary Evolution Engineâ"¢ as well as co-development of top-selling and critically acclaimed, BioShock® for PLAYSTATION®3 system. Digital Extremes recently expanded its reach beyond development with the licensing of its Evolution Engineâ"¢. For more information on the studio or its technology, please visit www.digitalextremes.com.
All trademarks and copyrights contained herein are the property of their respective holders.
Last Updated: May 11, 2009