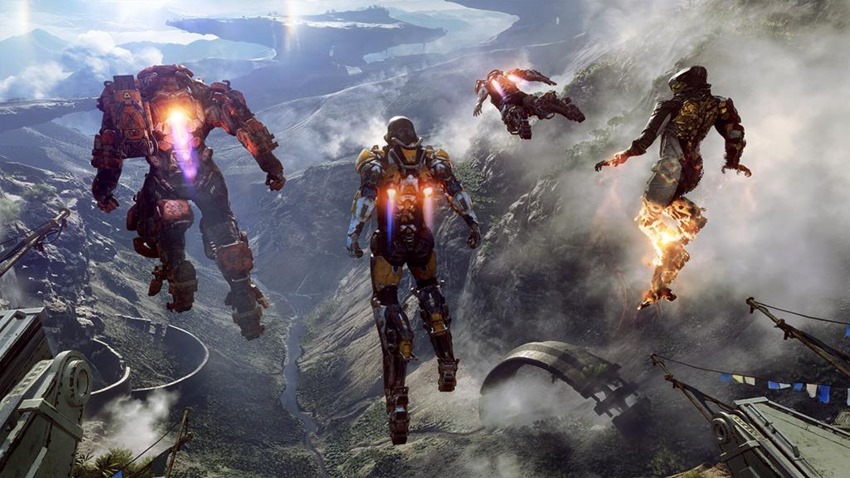 There's a certain appeal in science fiction, in that the technology used to create the future is actually plausible. Science fantasy on the other hand? That's about as implausible as the Earth being round (FLAT EARF FO LYFE!), a wondrously far-fetched use of science that is on the cusp of being confused for magic. That's the kind of element present inside of Bioware's upcoming Anthem, which stars you as that fella in a mechanised war-suit that is killing anything around you that doesn't have a pulse.
It's that very drive to create a world that isn't beholden to the more grounded rules of reality that has been a key factor in Anthem, which gives Bioware's latest property a different flavour to that of Mass Effect. That's according to Bioware General Manager Aaryn Flynn, who described Anthem's departure from "hardcore" science fiction. "The story is that you are part of humanity and part of a group called the Freelancers, who are out there to save and protect humanity on an alien planet far away," Flynn said to the Edmonton AM radio show.
This one is about having fun in a game world that is lush and exotic
It's a genre that we call science fantasy, very much like Star Wars, like the Marvel universe where you see a lot of amazing things happening but we don't worry too much about why they're happening or how they're happening, the science of it. Mass Effect is a more a real hardcore science fiction IP.

This one is about having fun in a game world that is lush and exotic and sucks you in. There are shooting mechanics in it, it's an action game, it's a role-playing game. Its got a lot of those elements to it that just lets you become a character that participates in this.We've been working on it for close to five years now. And it's something that you have to incubate and nurture, change and adjust. It's a very creative process that our team goes through to do that.

We were sitting around after wrapping on our last Mass Effect game here in Edmonton, Mass Effect 3. And we just thought about the chance to build a new property in this industry pretty rarely, and so our parent company Electronic Arts was giving us that so we had to take it very seriously. We sat back and we thought 'what's really fun now?'. Ever since I've had two sons, I've wanted a game that I could play with them, so this is my chance to build a game that I can with my two sons together.
I'm still thinking that the E3 demo looked too good on the visual side, although I'd be very very happy to be proven wrong in this instance. Graphics scepticism aside, Anthem looks like solid fun. Sort of like the bastard child of Titanfall and Destiny really. It'll be done when it's done, although with five years of development in the bag I'd wager easy money on a late 2018 release for Anthem.
Last Updated: June 27, 2017