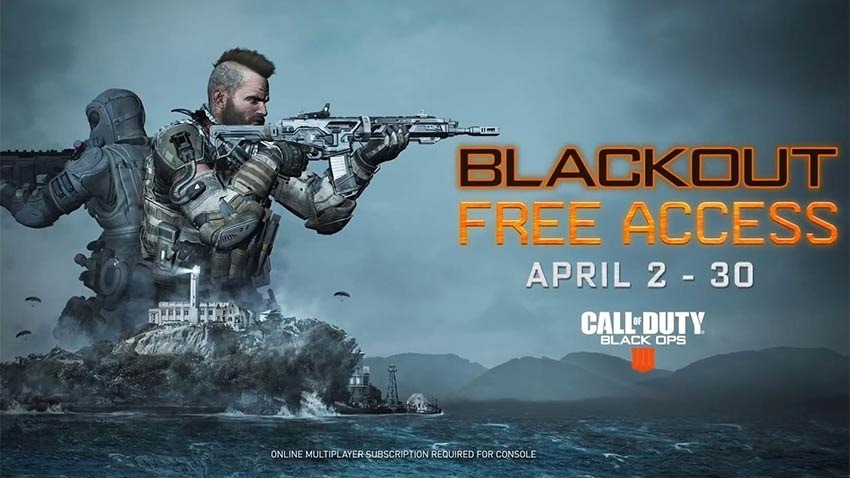 I liked Call of Duty: Black Ops 4's battle royale mode Blackout when I played it. That was, of course, before the modes went into rotation. Then Apex Legends came along, making other battle royale games seem positively archaic by comparison. At this point though, I'm thoroughly over games of its ilk – but if you've had enough for Fortnite and Apex and want to try something else, Activision has announced that Blackout is going free-to-play for the entirety of April.
To coincide with the release of Blackout's new Alcatraz map on PlayStation 4 today, Blackout will be free to play on all platforms until April 30. The new map is – as its name suggests – set on the US's infamous prison island – and will require some all new strategies.
"The new Blackout Alcatraz map is set in a fog-filled island boasting a variety of environments that all lead up to the big cellhouse atop the hill. Requiring new strategies and tactics, players will drop in, gear up and fight through both close-quarters combat and long-range exterior firefights as they battle to be the last squad standing."
There are likely a few reasons for the free month. The first is the most obvious, which is promotion of the new map. It's also likely that Activision wants to claw back a little of the crowd that flocked to Apex. They're also likely trying to take a little thunder out of Battlefield V's own recently released Firestorm battle royale, though that is, by some accounts, a half-baked mode that was rushed to market…despite being delayed. They could also be testing its viability as a free-to-play standalone mode in the long term. Given how Blackout's player base has reportedly shrunk, that could indeed be the idea.
The map is out now on PS4, and will make its way to the other platform at a later, unspecified date. Hopefully it'll still be within the free period. If you haven't played Blackout, now's a good time to give it a go. If still play it, start thinking about al that fresh meat that's coming your way.
Last Updated: April 2, 2019