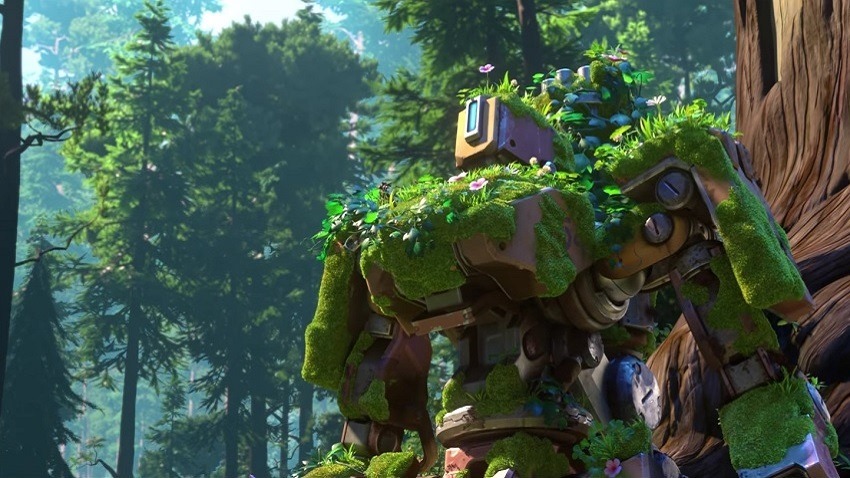 The story of Bastion almost always brings a tear to my eye. No, I'm not talking about the fact that the Omnic is essentially the last of its kind, but rather, that the hero started out so strong, and now, the poor thing is down there, right at the bottom of the barrel, held down by everybody's unanimous hate.
Help is on the way for Bastion thankfully, in the form of a handful of buffs which should hopefully remove all negative stigma. We already knew Blizzard were looking to give the bot some love, but now we know exactly what they have in mind. Principle Designer Geoff Goodman shared some insight over on the Battlenet forums:
Here are some high level stuff we're likely to have testable in the next PTR:

Recon Mode – Lowered spread and increased magazine size, to help with general viability in this mode.

Sentry Mode – We're looking at focusing this mode into more of a tank-buster and barrier-buster mode, while also making it feel less suicidal to be transformed. To that end we're testing stuff like increased spread and removing headshots, but taking less damage while transformed.

Self-Repair – We've been testing a few big changes to this that are feeling really good so far. Currently our internal build has Bastion able to use Self-Repair while moving and also having it no longer interrupted when taking damage. To balance that out it is now on a resource system (similar to the route D.Va's defense matrix went). These changes have turned this ability from a more niche rarely used ability, to a much more powerful and core survivability tool.
Those are some pretty interesting buffs. I'm not too fond of Sentry Mode having no headshots and an increased spread to be honest, but being a bit harder for the enemy to take down might balance that all out.
The ability to repair on the move is an interesting one. Something I always disliked about Bastion is that the bot always feels a little too static. I get that it's a sentry, but having to sit still most of the time, even when healing, was such an annoyance. Hopefully this buff will make things feel more fluid.
I'm keen to see how these tweaks play out on the Public Test Realm. They'll make Bastion a little more viable, all the while keeping his counters and weaknesses intact. Genji and Widowmaker for example, will continue to have a field day with the Omnic.
As for the rest of the cast, they might want to be careful. Bastion is coming back! Hopefully he stays relevant this time too, and doesn't fall back into that awful barrel of hate.
Last Updated: January 31, 2017