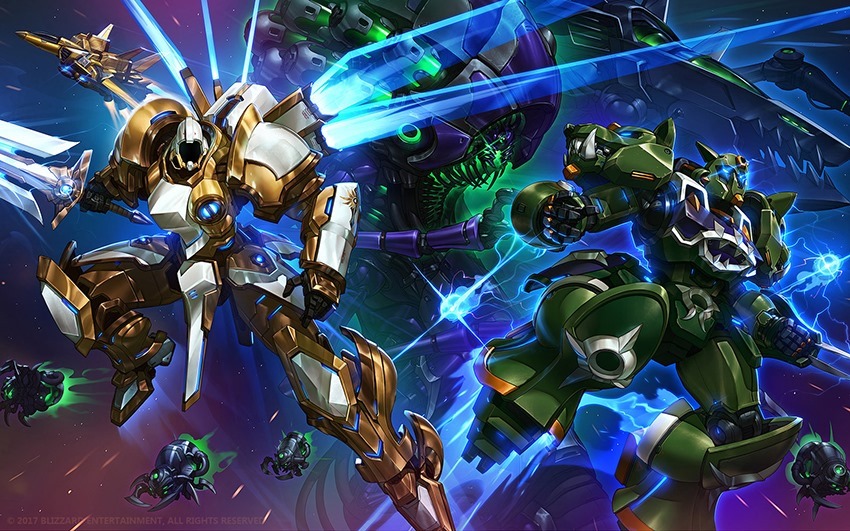 Full disclosure: I know almost nothing about Heroes of the Storm except that I always poke fun at a friend who is obsessed with Blizzard's free-to-play MOBA game by telling him that he has the '"HOTS" for it. Yes, I do indeed have the maturity of a tadpole. One thing I do know very well though is that in the world of video games, there are few people who do cut-scenes as well as Blizzard. Their most recent work on the Overwatch series of short films has left many wondering why they don't just do this full time and threaten to tear the CG-animated movie crown from Pixar's head. While Blizzard doesn't appear to have any intention of doing that, the studio sure does know how to keep its fans jaws on the floor.
Blizzard rolled out a new update to HOTS (giggle) yesterday that gave all the heroes in the traditionally fantasy-based game "mecha" skins. And what better way to promote these skins than with anime, the very home of mecha? It's less than two-minutes long, but in typical Blizzard style it's still pretty damn badass, reminding me heavily of classics of the genre like Robotech/Macross, Voltron, and Gundam. Hell, it even comes with a rocking 80s soundtrack! Check it out below!
As for the actual MechaStorm update which is live now, here's the official blurb from Blizzard. You can check out the individual hero details over HERE.
Arm your Heroes with the latest and greatest technological advancements the Nexus has to offer by picking up new Mecha Skins for Tyrael, Rehgar, and Abathur! These Mechas are built tough, with durability ratings so high they're guaranteed to be combat-ready whenever you enter the queue, and come back swinging when you put them through the ringer.

If it's style you're after, our Mechas are handcrafted using only the rarest materials and finest artisanal techniques. With upgraded visual effects on their abilities and altered voiceover kits, you'll be so sleek, sophisticated, and intimidating during hostile engagements that even D.Va will be jealous—hell, we've even installed in custom Hearthstone animations for Tyrael and Rehgr so you can show off when you need to make an exit.
Last Updated: January 17, 2018