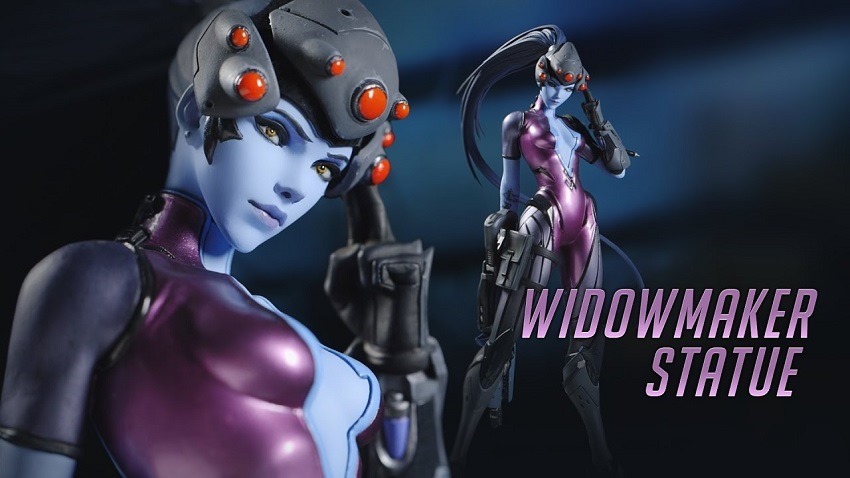 Blizzard have done a fine job with Overwatch collectibles since launch, but it's their line of stunning character statues that are the prize of fans globally. It kicked off with a gorgeous in-action posed Tracer, with an equally detailed Reaper following soon after. Today, Blizzard have revealed their next entry into the line. And she's certainly got your wallet in her sights.
Widowmaker is a nightmare to deal with in-game, but seeing her recreated in immaculate detail just brushes aside all those terrible games where I've had to face off against a very skilled one. This 13.5-inch statue presents Widowmaker in her signature pose, with all the expected bells and whistles that go along with that. All of Blizzard's Overwatch statues are hand-crafted, so you can expect the utmost care when it comes to the finer details like her tattoos, goggle paint and little apparel decals.
The statue is currently slated to release in Q3 of this year, but pre-orders are open on Blizzard's Gear website right now. They're extremely limited runs, so you should be prepared to throw down the $150 now if you hope to get one soon. The Tracer figurine, for example, has been sold out since release – even though Blizzard promise that they're issuing another run very soon.
Thankfully it hasn't been "vaulted" – a term which Blizzard use for lines of collectibles that won't be getting another manufacturing run. For anyone hoping for another wave of Grommash figurines, that's sadly exactly what Blizzard have enacted. Thankfully neither Tracer or the still in stock Reaper are anywhere close to that status just yet.
Who do you want Blizzard to tackle with their next figurine though? I'm quite excited to see what they could do with Winston or Zenyatta, but I'd absolutely die for a Bastion figurine in this line.
Last Updated: March 29, 2017