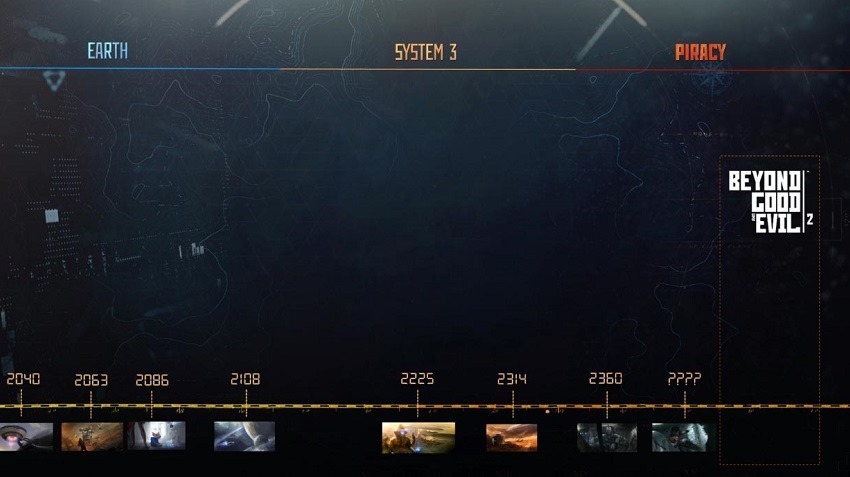 Beyond Good and Evil 2 still looks a long way off. At least that's the impression Ubisoft gave off during a second livestream for the title since its reveal at E3 last year. This was, however, the first time the studio was willing to show off the game properly in action. Before we've just seen snippets of in-engine tests and some striking concept art. But if Beyond Good and Evil 2 sticks to the sorts of ambitions being touted here, it could be something special.
Without getting too ahead of ourselves, check out the gameplay in question below. It's brief, and very early still (there's clearly blends between animations missing), but it gives you a good idea of what the aim is – unrelenting, pirate action. The ability to fly up to a massive vessel and hop out of your spaceship to engage in melee combat on the hull. That's awesome, and more of what I want to see at E3.
Ubisoft promised that there's still a lot being held back for the show in question, but a bunch of interesting details about this sequel sprouted from this livestream. The game will take place in a single solar system, which will have a finite number of planets. So while you can jet out of the atmosphere at will, there's no millions of procedural planets for you to explore. Which is actually great news.
The game will also allow players to make their own character, which will become an avatar in a story that will explore some of the origins of Jade (the protagonist of the first game). Co-operative play is also on the table (duh, Ubisoft), but single-player adventures are still possible with a crew of distinct characters with each of their own abilities. You'll also get shades of the first game here and there, with a spyglass taking the place of a camera when identifying and snapping objects around each of its many worlds.
It sounds like…a lot. And a whole bunch of ambition during a project still early in development doesn't always pan out. It's fascinating to see Ubisoft be so candid about development here, but I'm just hoping we aren't promised the stars and get delivered some cold space dust. Beyond Good and Evil, for its prolonged time in limbo, deserves better.
Last Updated: May 4, 2018