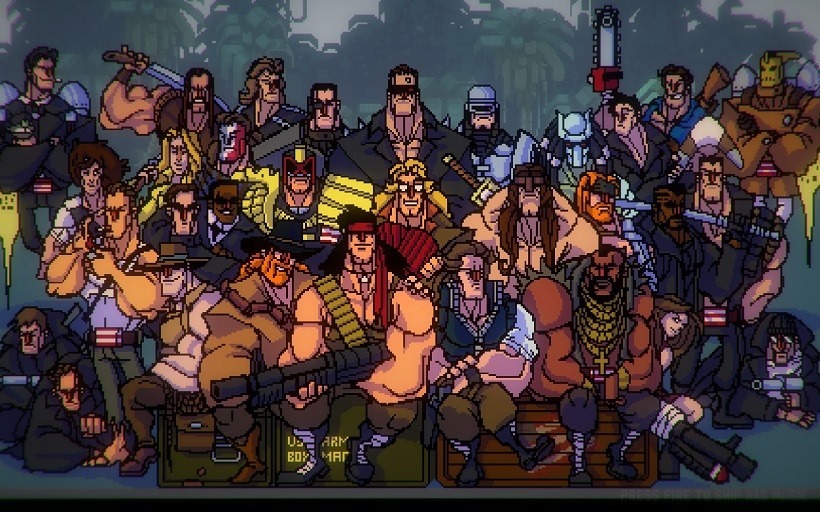 FREEDOM! Happy Independence Day everybody – we hope you all enjoyed your roast turkey dinner and… hang on a second, wasn't that a few days ago? Why on earth are Free Lives – the studio behind Broforce – celebrating the fourth of July only now? Ask no questions, hear no lies.  All that matters is that the awesome action platformer has just received a new update that kind of ties in with the holiday.
The patch contains a slew of bug fixes, and even new sounds. Oh, and it just so happens to feature a whole whack of new characters. Check out Bro Lee, Dirty Brorry, Tank Bro, and an updated Snake Broskin!
If you've not yet played Broforce (FOR SHAME), there really is no excuse anymore. It's currently on sale over on Steam. It'll cost you just R63.60. If you've got some friends who might be keen on joining you for some co-op action, there's a 4-pack too, which is selling at a very low R179.60. This offer will be running until the 11th of July.
So why should you bother playing Broforce? Simple, it's excellent! Don't believe me? Fine, I'll let the words of one very handsome Portuguese critic do the talking. Here's what he had to say in his review of the game…
Broforce is, simply put, a love letter to every action movie ever made. Free Lives have taken the heroes we've all seen on the silver screen, thrown them into a 2D pixel environment, and created an insanely addictive, if not a little-too-difficult action game that can be enjoyed alone, or with friends. If you've ever enjoyed the likes of Contra, or even Metal Slug, you really shouldn't miss out on this game!
I haven't played Broforce for months. What about you? This new content is the perfect excuse to jump back into the action for some over the top mayhem!
Last Updated: July 8, 2016