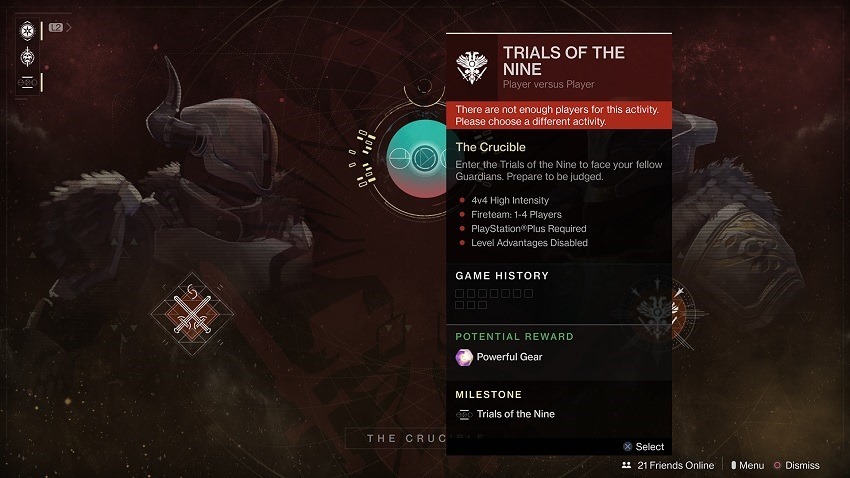 If one thing can be said for Destiny 2, its that Bungie has been pretty proactive with identifying and reacting to some serious bugs within their shared world shooter. The studio isn't afraid to yank content out if an exploit exists, which is exactly what they've done to the weekend competitive PvP mode, Trials of the Nine. The peak of PvP action in the game will be absent for the next two weeks, as Bungie attempts to fix an exploit caused by yet another emote.
While it's not the same Monty Python inspired silly walk from last week, another emote has apparently started causing havoc in Trials. Bungie isn't specific as to what the issue really is, but its serious enough for the team to halt the mode entirely until November 3rd. Bungie already seems to have a fix in place, but is using the extra time to sort out any additional problems the mode might face, as to avoid such serious downtime in the future.
Exploits are rife in a large game like Destiny 2, and Bungie seems to be stretching in all directions trying to fix them. The first team to finish this week's Prestige Raid did so by utilising an exploit even Bungie themselves hadn't seen yet, leading to some interesting debate over whether their time should be recognised at all. Players will always look for ways to break the rules of the world, and there's not enough QA in the world to plug them all before they're found through play.
But at the very least Bungie is doing its best to rectify these issues as quickly as they can, while taking steps to ensure problematic instances of exploits aren't left in the game to sully the experience for the masses.
Last Updated: October 20, 2017