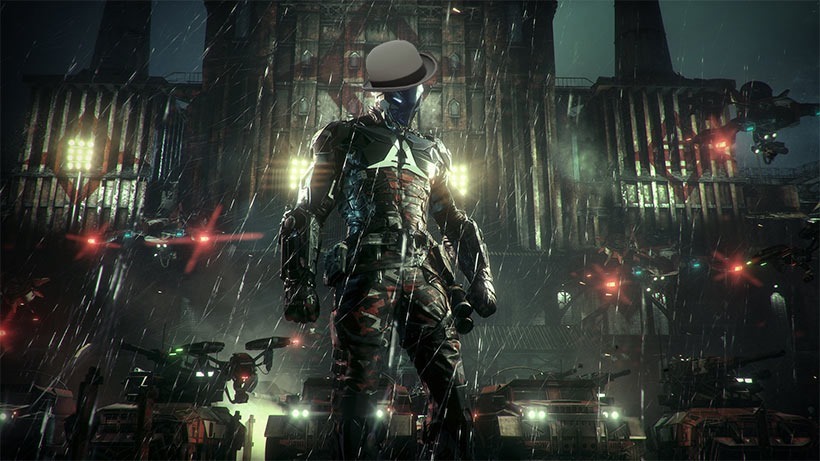 Warner Bros recently announced that Batman: Arkham Knight was going back for sale on the PC. With the game duly patched, it all mostly works as intended, without the sometimes crippling performance hit seen before the updates.
When it was announced, consumers-types expected that Warner would give away the game's frankly lacklustre DLC away to PC gamers as some sort of recompense – but they were wrong. That didn't happen, and people were angry.
Well, PC gamers, your whining wasn't for naught – buying Arkham Knight on PC now does get you some free stuff. Unfortunately, it's very probably free stuff you already own.
Anyone buying the Arkham Knight before 16 November (yes, including those of you who bought it when it was first released) will get the entire Arkham series of games added to your Steam libraries. Of course, if you're buying Arkham Knight, you're probably invested in the series anyway, and already own them.
Buy Arkham Knight and you'll own Batman: Arkham Asylum GOTY, Batman: Arkham City GOTY, Batman: Arkham Origins, and Batman: Arkham Origins Blackgate. Hooray?
Rocksteady will be also creating a new "Community Challenge Pack" that will be given free to PC gamers who own Arkham Knight. In addition to that, because it is Steam, after all, you'll also get some Arkham-inspired…Team Fortress 2 items. Yes, Batman hats.
To recap, here's what Arkham Knight PC owners will get:
Free digital copies of games from the Batman: Arkham library.
The "Community Challenge Pack" DLC.
The Batman: Arkham inspired Team Fortress 2 items created by the Batman: Arkham community.
I'm not sure that's a suitable olive branch. I think the season pass – laughable as it is – would have been a better freebie. It seems I'm not the only one, because people are still angry.
"Screw you WB," says one angry batfan. "Your attempt at "compensation" is worse than laughable. Most of us ALREADY have the games you're trying to give us. How about giving us a DLC season pass instead? It seems like you idiots actively try to piss off your fan base and the people who would happily give you money if you provided a quality product on time that actually works. You keep slapping us in the face. How much longer do you think people will stay loyal? Your'e disgusting."
It's one of many such complaints (70 pages worth!) that essentially boil down to the same thing: People who're buying Arkham Knight already own the rest of the games, so they feel like they're getting nothing.
What do you think? Is this vitriol warranted, or is it just another example of gamer entitlement?
Last Updated: October 29, 2015