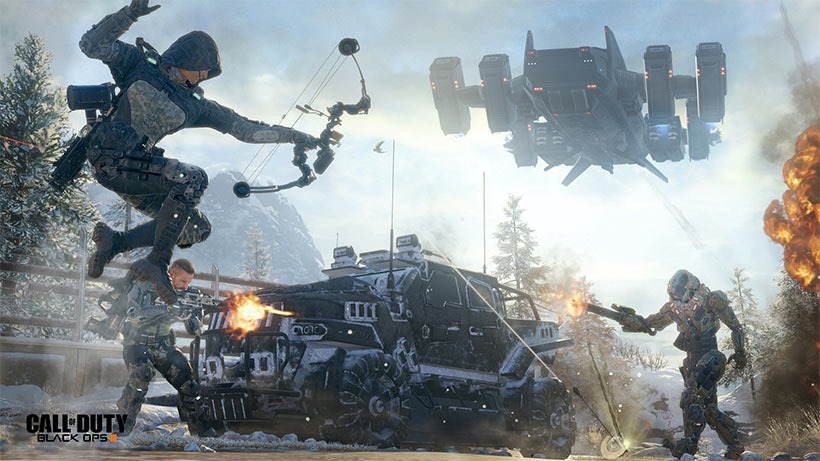 For a while now, we've pondered about the prospect of publishers splitting their traditionally multiplayer-centric games from their single-player components, and selling them separately. It makes sense, especially for games like Battlefield, or Call of Duty where the campaigns cater to a specific subset of players, with most spending their time in the competitive multiplayer.
I'd wager that most players of those sorts of games end up not even touching the single player bits. Activision may have come to realise this. It's either that, or they're desperately trying to increase the playerbase for Call of Duty: Black Ops 3 on the PC.
On Steam, you can now pick up The Call of Duty: Black Ops III Multiplayer Starter Pack. It's a multiplayer-only, significantly cheaper version of the game that skips on the superfluous single and cooperative stuff. It's R199, or $15.
The Multiplayer Starter Pack gives you access to Public Ranked Multiplayer matches and features including Weapon Paint Shop, Gunsmith, Arena, Freerun, Theater, and the Black Market.  What doesn't t contain?
Zombies game mode
Campaign game mode
Ability to play in Multiplayer custom games
Ability to Prestige (your level will be capped at 55 in the Starter Pack)
Access to mod tools or modded content (once released)
Access to unranked server browser (once released)
Ability to Fresh Start your profile
The ability to access Dead Ops Arcade II and Nightmares mode
Should you wish, you can then upgrade to the full game. Honestly? I think it's a great idea. Call of Duty's multiplayer is still pretty solid, and as much as I'm a fan of them, this year's single player campaign was a great big letdown for me.
It is, however, a limited time offer – with the multiplayer pack leaving the digital storefront on Monday, Feb. 29, 2016.
Last Updated: February 17, 2016