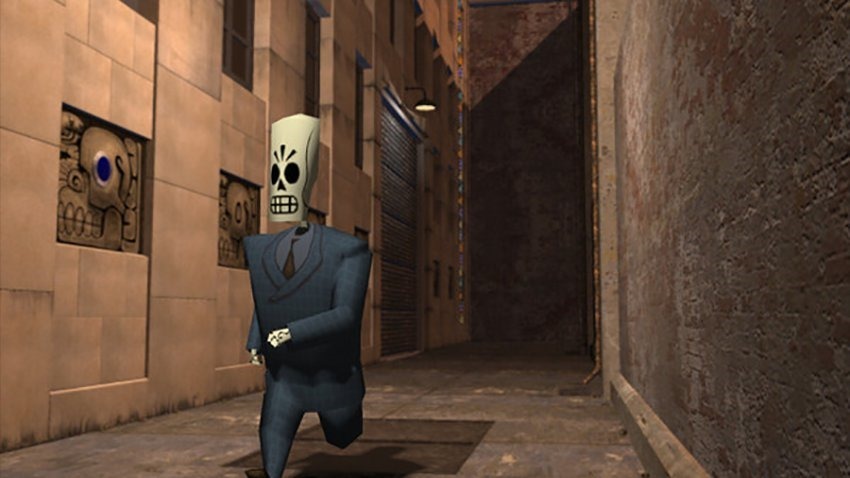 There's nothing like free games – and it's even better when they're good. Just yesterday, Ubisoft made its swashbuckling pirate adventure Assassin's Creed IV: Black Flag free, and now there's another great game for gratis.
Until tomorrow, you can grab Double Fine's wonderful remaster of classic point-and-click adventure game Grim Fandango, for the price of absolutely nothing. As part of its Winter Sale, Good old Games (or GOG if you prefer) is giving away the rejiggered version of the old LucasArts adventure for free.
It's not the best remaster, but it's definitely worth playing.
"Playing through Grim Fandango now, years later is still a joy – but it has highlighted how spoiled modern gamers are. Some of the solutions to the puzzles – as was often the case with 90's adventure games – are downright obtuse, opaque and bordering on asinine. And I love it. I love the fact that its puzzles make little to no logical sense, and there's nothing remotely resembling the sort of "follow the trail" hand-holding so ubiquitous in modern games.
It also, despite being a remaster, doesn't really look like a modern game. It's not the most technically accomplished of remasters. This isn't one of those shiny remakes like we saw happen with The Secret of Monkey Island and its special edition, or the New 'N Tasty version of Abe's Oddysee. There are a few newer, higher res characters models and a new real-time lighting engine to replace the previously baked in lighting, but the backgrounds have simply been upscaled. To be honest I'm okay with that."
What makes Grim Fandango Remastered  especially lovely is the director's commentary, explaining the motivations behind some scenes, giving insight into the development process. It's funny and enlightening, and that alone makes the remaster worth buying. Getting it for free is just gravy.
Get it on GOG now, and then look through their sales, okay?
Last Updated: December 13, 2017