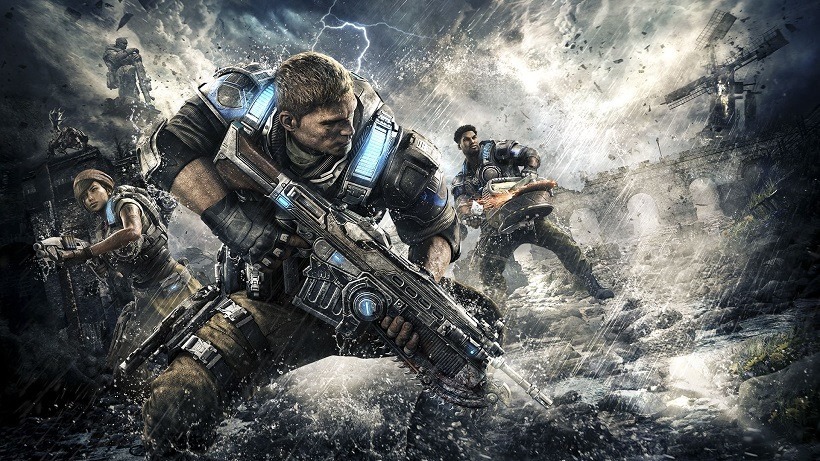 Gears of War is a franchise synonymous with the Xbox brand, and it's a series I hold very dear to my heart. Although I must admit its been a while since I've fallen in love with one again, with the final Gears of War 3 entry and its spin-off, Judgement, not really blowing my hair back as, say, the debut title. With a new studio at the helm, The Coalition has the chance to make their own mark of a beloved series – and we're edging ever closer every minute.
In fact, Gears of War 4 is so close that you can now download all the files you need for launch day right onto your Xbox – although you can't access them for a few weeks. The pre-load for Gears of War 4 is now live on Xbox One, with the official account confirming its status and size via Twitter last night. With a single-player campaign, multiplayer and Horde mode, it's quite a large download too – clocking in at just under 55Gb for the whole thing.
That of course excludes any day-one patches which, let's be honest, will probably go live as soon as the game launches.
Good news! #GearsofWar4 pre-load for XB1 digital pre-orders begins later today at 5pm PDT (12am UTC). Expected download size will be 54.6GB.

— Gears of War (@GearsofWar) 27 September 2016
Considering Gears of War 4 falls under the blanket of Play Anywhere titles, you'd expect the Windows 10 version of the game to be up for pre-load too. Sadly that's not the case just yet, but The Coalition has promised that it is coming soon and will be live well before launch. This way everyone should be ready for the servers to go live come October 11th.
#GearsofWar4 PC pre-loading is coming soon and will be well ahead of launch! We will be sharing updates on that in the near future.

— Gears of War (@GearsofWar) 27 September 2016
And that's not far away at all, which brings about a new dawn to the Gears of War franchise. From what I've seen so far, I've grown warmer to The Coalitions direction for the game after being disappointed with my hands-on at E3. Whether that lasts throughout, only time will tell.
Last Updated: September 28, 2016