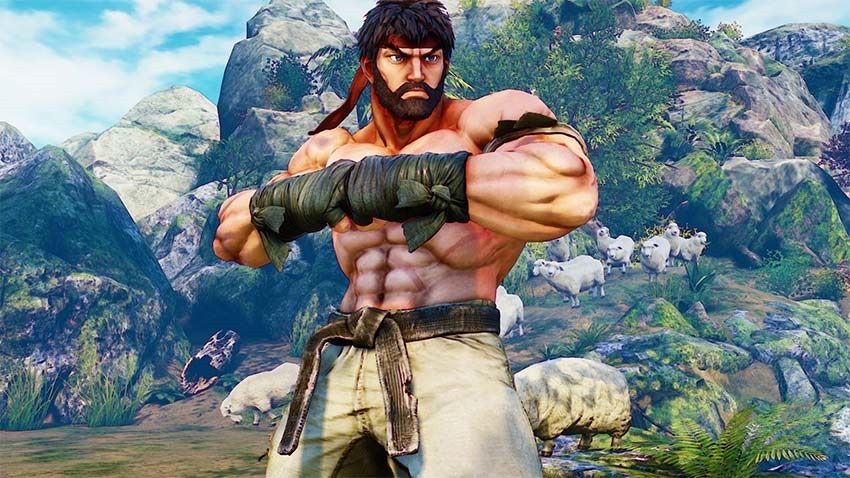 Mortal Kombat 11 is stuffed with guest characters, with the T800 from Terminator in it right now, and Spawn and the Joker headed to the fighting game soon. IF NetherRealm's Ed Boon had his way, the game may have had a guest fighter from the venerated Street Fighter series, making heads all over the internet explode.
It's something that fans of fighting games have wanted since the halcyon days of Street Fighter 2 and Mortal Kombat, but the disparate styles just wouldn't really have worked well together. Sure, people using fighting game maker MUGEN have created their own home-spun MK vs SF fighting games over the years, but it 's just not something that works well in an official capacity. Speaking to Eurogamer in a bumper interview, Street Fighter custodian at Capcom, Yoshinori Ono, said that Boon approached Capcom to have a Street Fighter in Mortal Kombat, but the Japanese company didn't think it was a good fit.
"It's true that a proposal for a Street Fighter character in Mortal Kombat was rejected by Capcom. But it wasn't me personally! There were many people at the company that felt that it wasn't a good fit for our characters. I actually met Ed at the Brazil game show and spoke to him personally about it. So it's true – but I didn't make the decision!"
Of course, Street Fighter as a series isn't wholly averse to crossovers. Over the years there have been games where Street Fighter's crossed over with other fighting games. Ryu and Ken are in Super Smash Bros, Akuma is in Tekken 7, and there was Street Fighter X Tekken last generation, but the less said about that the better.
Could a Mortal Kombat Street Fighter crossover ever happen? Maaaaaaaybe
"We don't necessarily rule anything out. We've had our share of crossovers over the years – Marvel vs. Capcom, Tatsunoko vs. Capcom. From Ed Boon's side they had Injustice that had various universes colliding. It didn't work out this time, but Capcom is interested in doing that kind of thing. If we can get something we feel good about, we could move quite quickly to make that happen."
It's still something fans would love. Just this week, Mortal Kombat boss Ed Boon tweeted out a fan-made poster for Street Fighter 6, and fans lost their minds.
Last Updated: November 7, 2019