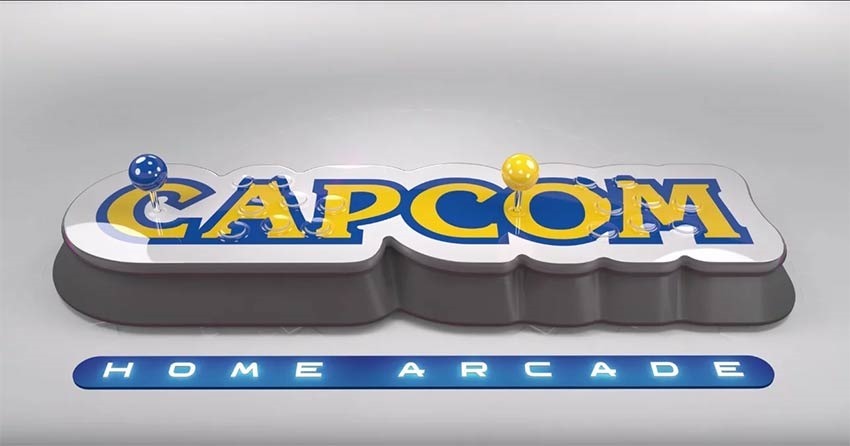 After teasing it the day prior, Capcom has now officially revealed its Home Arcade console. Instead of a miniature cab like the Neo Geo Mini, or a smaller system like Nintendo's NES and SNES Classics, Capcom's Home Arcade is a full-sized, two-player arcade unit that plugs directly into your TV. It's not unlike those ones you'll find at retail, stuffed with hundreds and hundreds of unlicensed roms.
Instead, this one is a bespoke unit in the shape of Capcom's logo and is stuffed with a collection of 16 CPS 1 and CPS 2 games from Capcom's arcade history. Importantly, it'll be the first time their exceptional Aliens vs Predator beat-em-up will be released outside of arcades. I really like how it looks as a showpiece, but it seems curiously shaped for actual use.
The system will also include favourites like Street Fighter 2: Hyper Fighting, Ghouls 'n Ghosts, Final Fight, Giga Wing, and Progear. It doesn't seem that additional games will be available to download, but the system does include Wi-fi. The buttons – arranged in classic 6 button config with two extra buttons for coin and start – and sticks are SANWA made, which means they're using arcade-quality parts. It'll be powered by a micro USB. Emulation is provided via Finalburn Alpha.
Here's the full list of games:
1944: The Loop Master
Alien vs. Predator
Armored Warriors
Capcom Sports Club
Captain Commando
Cyberbots: Fullmetal Madness
Darkstalkers: The Night Warriors
Eco Fighters
Final Fight
Ghouls 'n Ghosts
Giga Wing
Mega Man: The Power Battle
Progear
Street Fighter 2: Hyper Fighting
Strider
Super Puzzle Fighter 2 Turbo
The selection of games is..interesting. There are some real gems, but there's so much more to Capcom's CPS history that's not included, and I think 16 games aren't enough to justify this system's high cost – 230 Euros. Given how these things tend to be hacked, it's likely that this too will be cracked open, allowing users to stuff it full of their own, completely legally acquired and licenced roms. Yes, that.
Last Updated: April 17, 2019