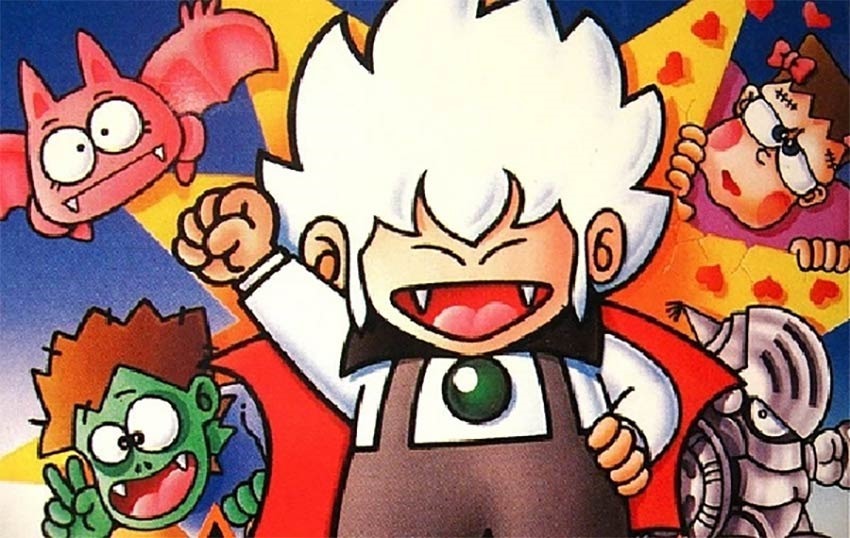 This year is Konami's 50th anniversary, and to celebrate they're bringing a few collections of old Konami games to consoles. There's the already available Arcade Classics Anniversary Collection, a Contra Anniversary Collection and also a Castlevania Anniversary Collection.
Konami revealed four of the games coming to the Castlevania collection before, in Castlevania, Castlevania III: Dracula's Curse, Castlevania II Belmont's Revenge (the Gameboy game) and Super Castlevania IV –which are all great games. Now, they've revealed four more games coming to the collection – and one of them is leftfield, and also makes me so, so happy.
Castlevania Bloodlines
Released over 25 years ago, Castlevania Bloodlines has been a sought-after classic by retro game collectors worldwide and now will be playable on a PlayStation console for the first time ever. Castlevania Bloodlines follows main protagonist John Morris, and is one of the few times a Castlevania game did not include a member of the Belmont Family.
Kid Dracula
Kid Dracula is a rare gem in the Castlevania Anniversary Collection. Since its original release in 1990 as Boku Dracula-kun in Japan, Kid Dracula is a cute and light-hearted take on the Castlevania franchise and is rumoured to be one of the first times we meet Galamoth, better known as one of the bosses in Symphony of the Night.
Castlevania the Adventure
Originally released in 1989, Castlevania the Adventure was the very first Castlevania game made for a portable console. As Christopher Belmont, players will experience new experiments in Castlevania gameplay adapted for a handheld console.
Castlevania II: Simon's Quest
Simon's Quest evolved the gameplay from the original Castlevania, encouraging players to explore Transylvania in search for the scattered pieces of Dracula's body. The game's soundtrack, specifically is still one of the most recognizable pieces of video game music to this day with its iconic song, Bloody Tears.
Of course, there are notable omissions – not even going into the missing, more modern games of the Iga era. The choice to include Adventure and not Adventure Rebirth is odd, and the lack of rondo of Blood is weird (though it's been rereleased a few times before). Still, the inclusion of Kid Dracula – which has never been released in the West before – makes me deliriously happy, and I have an indelible smile on my face. Though the formatting and pictures have been lost to time, I wrote about my love for Kid Dracula years ago calling it one of the "best games you've never played."
Now you get to play it, and I get to play it again in English.
Last Updated: April 18, 2019