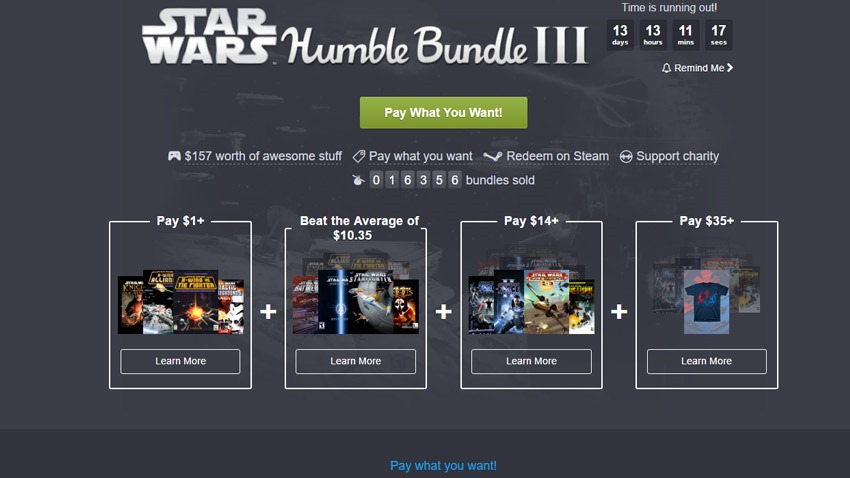 I don't think there's a person alive who hasn't played a Star Wars game. What began with primitive pixels in 1982's adaptation of The Empire Strikes Back continued with gusto over the years, as new technology allowed for new retellings of a story about space wizards in a galaxy far, far away. The Star Wars franchise is still going strong, although the actual output has slowed down in recent years.
Still, there's an entire galactic library of games set in that franchise that are still worth playing. Games that are worth remembering, treasuring and owning. And if you ever wanted to take a Kessel run down memory lane, now's your chance to do so for cheap. That's thanks to the latest Humble Bundle, which has gone gaga for all things related to Order 66.
Slapping down a $1 on the first tier of games nets you the classic Knights of the Old Republic, as well as my personal favourite Galactic Battlegrounds and its Clone Campaign expansion. Essentially Age of Empires 2 with lasers, I still own the original game which I may have spent way too many hours playing as I mowed down entire Gungan armies with legions of Stormtroopers.
Good times man, good times. Here's the full unlock list:
Pay $1 or more:
Star Wars: Knights of the Old Republic
Star Wars: X-Wing Alliance
Star Wars: X-Wing vs. TIE Fighter
Star Wars: Galactic Battlegrounds and Clone Campaigns expansion
Pay more than the average of $10 right now:
Star Wars: Battlefront 2
Star Wars Jedi Knight 2: Jedi Outcast
Star Wars Starfighter
Star Wars: Knights of the Old Republic 2: The Sith Lords
Star Wars: Rebel Assault and Rebel Assault 2
Pay $14 or more:
Star Wars: The Force Unleashed: Ultimate Sith Edition
Star Wars: The Force Unleashed 2
Star Wars: Rogue Squadron 3D
Star Wars: Shadows of the Empire
Star Wars: Empire at War
Remember, all of that cash goes to charities and the Star Wars: Force For Change initiative. So you can feel good about yourself while you behead stormtroopers. You've got just under two weeks to take advantage of this deal.
Last Updated: February 8, 2017