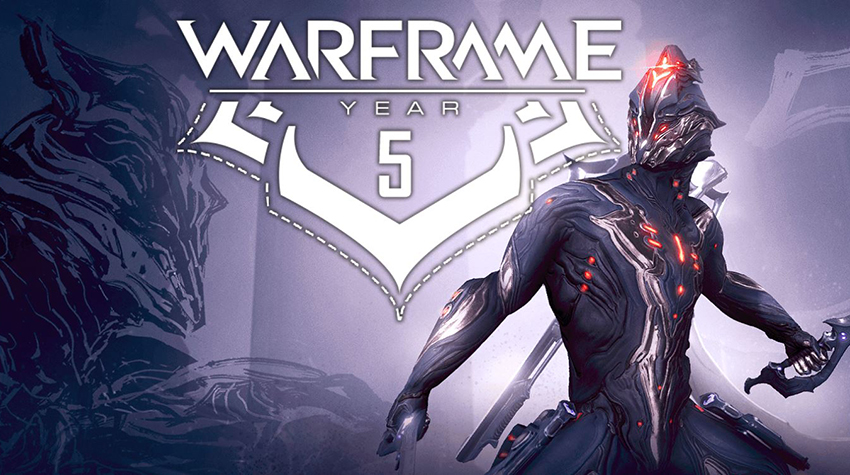 When it comes to Warframe, I'm still what the kids would call a "noob". (Kids still say noob, right? I'm old and out of touch, damn it!) I only got into Digital Extremes' free-to-play sci-fi looter-shooter at the beginning of this year, but Warframe has been around for much longer than that. Five years to be exact this month marks the half-decade anniversary for the game, and to celebrate DE is giving all us Tenno some sweet new loot.
First shown off in a Devstream a month ago, Excalibur Dex (or Dexcalibur, if you will) is the new premium skin for everybody's favourite sword-swinging Warframe which DE is making available for free. All you have to do is just log into the game between today and 28 March and you should find a message in your Inbox giving you the Excalibur Dex warframe skin and helmet (Cleverly, DE has customized the message to be different depending on where you are with the game's quests, so I wouldn't google those before getting the loot, as you may just see a spoiler).
There are also some brand new alert missions with various mission criteria (for example, melee only) to play during that same time, which will then reward those who finish them with the Dex Furis secondary weapon, Dex Dakra dual sword melee weapon, Dek Sybaris rifle, and Dex Nouchali syandana. All these Dex weapons come with their own free weapon slot and all have an Orokin Catalyst pre-installed, so no need to spend any platinum to use them, which is pretty awesome.
[PLEASE NOTE: Due to some PC players experiencing problems with it, the Dex Nouchali syandana alert has been removed on the platform until DE can release a patch for it later today. Console players are fine for now.]
I guess this also gives me the motivation I needed to finally actually get Excalibur. Yes, yes. I can hear your gasps of incredulity from over here. What can I say? I took Mag as my starter frame and up until recently when they changed the drop locations, farming for Excalibur was a bit of a pain. Plus, I own eleven other Warframes, three of them Primes, with two more Primes currently building. I really didn't need Excalibur. But I'll be damned if those "Fashion Frame" urges aren't hitting strong now.
Along with the reveal video for Excalibur Dex, DE also uploaded a video featuring a long list of the some of the most popular streamers in the Warframe community talking about their experiences with the game over the last five years and what they want to see going forward. I said "some of the most popular streamers" because the likes of iFlynn, Tactical Potato and Shy are conspicuously absent here, while there are people here who I've never even heard of. Either way, it's a fun little video so check it out above and I'll see you guys in orbit later with some shiny new gear.
Last Updated: March 15, 2018