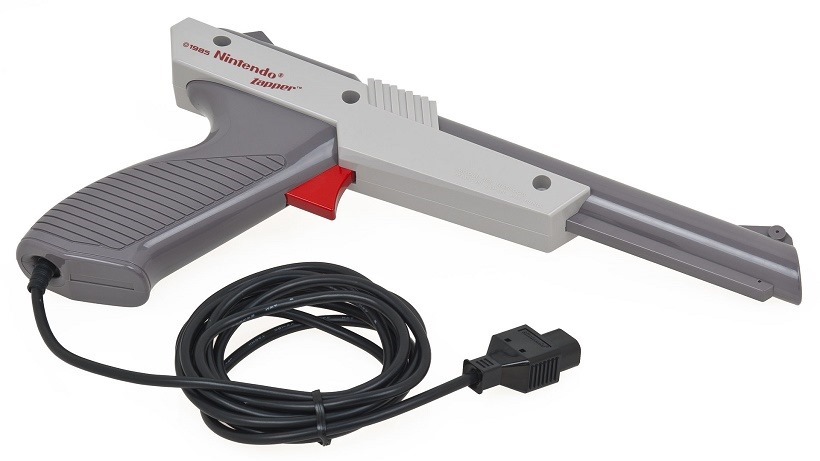 I can't be the only one who, as a kid, thought it would be flipping cool to have a a real life Nintendo Zapper. I'm not talking about the original accessory that plugged into the NES mind you, but rather, an actual gun that looked like it, and fired real bullets.
Well, ducks and robbers beware – such a weapons now exists! Precision Syndicate, LLC, a custom firearm manufacturer in Texas (I'm shocked), has given a Glock a complete Nintendo Zapper makeover (via VG247).
Finally… We were waiting for someone to let us do this. We weren't the first to do it but WOW, this glock turned out good!
How cool? Don't get me wrong, I'd never condone making use of the weapon, but I really do appreciate how awesome it looks, and how true it is to the original Nintendo Zapper.
I mean, just look at it. That colour scheme and design is absolutely perfect! My only criticism really, is that the trigger was left black – it really should've been painted red.
Anyhow, firearms are no joke, and as expected, there has been a mixed reception from the general public. Some, like me, admire the conversion, knowing that the weapon will probably (and hopefully) only be used for display purposes.
Others meanwhile, are angered that such a conversion even took place in the first place. This prompted Precision Syndicate, LLC to make the following response on their Facebook page:
In light of the "Nintendo Glock" drama, we feel that the media and our fans need to know that this firearm will not be mass produced nor will it ever be. This is a one off custom build for a friend of ours. Do (sic) to the thousands of emails and messages we have received in the past 2 days we have been unable to contact everyone in a timely manner, please be patient we will get to you as soon as possible. Thank you all for your support! Oh, and please.. keep your guns locked up and away from children, it's common sense.
Look, if the Zapper is left with an empty mag, and put up into a display case purely for show, I see no reason to be angry. Then again, whoever wanted the job done could've gone for something far safer – like a 3D printer made model.
What are your thoughts? Should this job have been ignored by Precision Syndicate?
(Header)
Last Updated: April 11, 2016