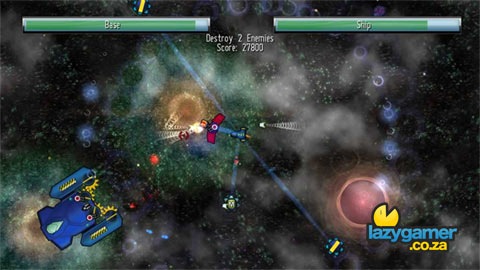 If you listened to this weeks episode of The Lazygamer Podcast, you would know that we had a discussion about Indie Games replacing Xbox Live Community Games.
We also spoke about how our support to Indie games and developers helps talented, new developers rise up and create great new games for us (Portal, Castle Crashers etc.). Well we want to do our bit to assist and it was just our luck that an Indie Developer named Elbert Perez decided to send us an e-mail telling us about his new game.
Here is the description of his new game, titled "Gum Drop: Celestial Frontier":
The shooter where you don't shoot, but smash your enemies. Featuring physics based gameplay in space, Gum Drop Celestial Frontier defines a new way to play shooters by removing the shooting mechanic and adding a big ball attached to your ship that you use to smash your opponents. Featuring 20 levels of destruction, and a infinite mode where you can smash enemies indefinitely.
The game is available on Xbox Live Indie Games (not called Community games anymore, did you forget already?) for a meager 200 MS points and a 47MB download.
Check the trailer out after the jump.
Last Updated: July 31, 2009