Earlier this week I asked a rather tough question regarding the future of comeptitive Overwatch in South Africa. What followed was an onslaught of suggestions and interesting discussions as to what the real problems are, and there are a couple. The usual "no South African" servers debate arose, but that's just one problem of many.
The issue with South Africa not having servers is always a heated debate since it is essentially a double edged sword. While yes, it will increase the player base, there is the off chance that it will stagnate competition and skill in South Africa. We've seen it with most competitive titles like Dota 2 and CS:GO. The other unfortunate edge is that for Blizzard to bring servers here there needs to be a steady player base which we currently do not have. We saw this with the recent visit from Riot's Global Strategy Team who saw little promise in South African League of Legends.
The premise of this article is to highlight some of the comments made by members of the community who still feel Overwatch has a shot, adding their thoughts on what needs to be done.
@CongoKyle I think tournament providers need to invest into this title. Hopefully seeing more tournaments pop up will help the growth.

— Nathaneal Slabbert (@BurningRedZA) October 12, 2016
Nathaneal Slabbert is the co-founder of nAvTV, one of South Africa's leading eSports broadcasting companies. He's right in his comment that more tournaments with bigger prize pools could bring some much needed attention to Overwatch, but we've tried this before…
@CongoKyle @BurningRedZA More tournaments is not the answer. This is what was tried with Heroes of the Storm. We need an active community.

— Alwyn Venter (@WRG_AlwynVenter) October 12, 2016
Alwyn Venter, owner of White Rabbit Gaming, brought forward an important point. Last year NAG and nAvTV hosted a Heroes of The Storm tournament at rAge which saw top tier production, booths, and South Africa's then best HoTS teams. After that the game died a sudden death, and it did not have an active community. As I explained to Alwyn, Overwatch does have a very active community, and that's solely the reason behind this article.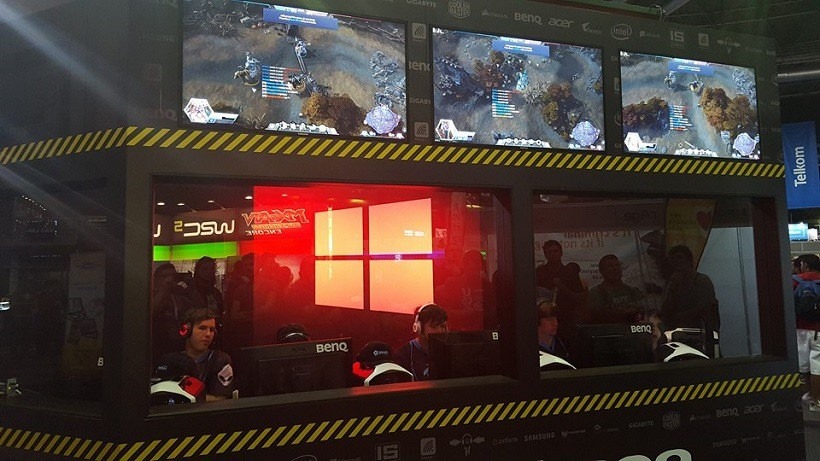 Heroes of the Storm booths at rAge.
Another great insight came from Leendert Viljoen on Facebook. Leendert has been an active member of the eSports community for several years adding weight to his opinion on the current suffering of competitive Overwatch in South Africa.
"The reason Overwatch is dying here is because teams that are looking for new members are extremely picky and don't want to give just anyone a chance, even if they have the skills to show it. There are a lot of players who want to join a team but don't want to run a team.

Teams bring up past experiences from old game titles where they might have ran into someone from the community who were not "up to skill" in that specific title and now they assume it carries over to this one. Last time I checked LoL and Overwatch are two different types of games. People need to pull their ego out their arses and start working together otherwise there will never be anything more then the Orena ladder."
This is probably the most important comment, and something I did not originally consider when making my first article. Every single day I see people posting in the Overwatch South Africa Facebook group looking for teams. Of those players who asked, a team of six could easily be made. There is a huge superstar mentality in South African eSports where some players think they deserve a spot, but aren't willing to put their McCree where their mouth is.
To summarize it, we need more tournaments, players need to be more open minded when looking for teams and players need to drop the ego when searching for teams. I truly feel Overwatch has a shot as a competitive eSports title in South Africa, but there are only so many articles I can write to try bring to light the issues which are not foreign to every eSport in South Africa. The only way we can move forward is if we work together. The time to sit around and wait for something to happen has expired, and if rAge's eSports influence taught me anything this weekend, it's that teamwork makes the dream work.
Like esports?
Check out esports central
Last Updated: October 13, 2016