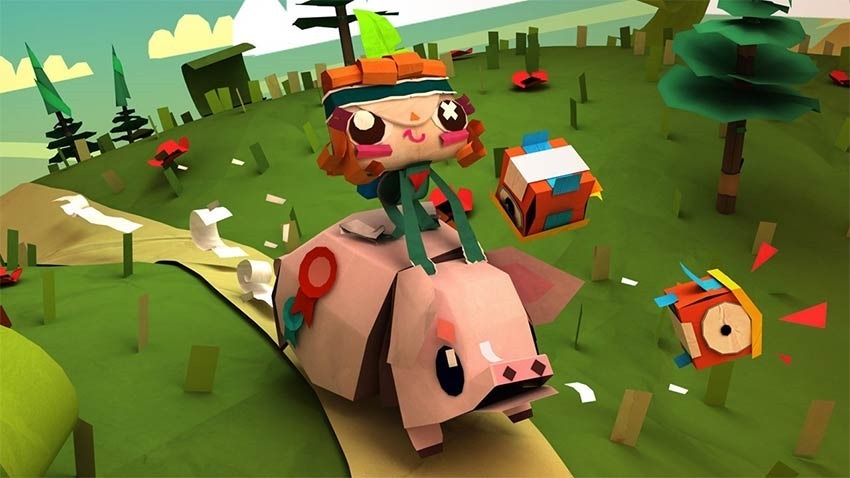 It looks like the leaks were indeed true – again. Earlier this week a retail flyer suggested that we'd be getting Tearaway Unfolded and as-yet-unreleased as the primo PlayStation Plus Instant Games Collection games for March. The flyer was legit – and those games will soon be available for PlayStation Plus subscribers to download.
Joining Tearaway and Disc Jam in March are odd narrative fighting game Under Night: In-Birth and Earth Defense Force 2025 on the PS3. PlayStation Vita owners get isometric adventure game Lumo (which is also PS4 crossbuy) and dungeon crawler Severed.
The most exciting game on the list for me (and many others, I imagine) is Disc Jam, which is a bit like a 3D re-imagining of arcade classic Windjammers.
"Disc Jam is a fast-paced action-sports game that pits 2-4 players against each other in a frantic combination of air hockey and tennis. Players scramble to retrieve and throw a glowing disc while unleashing devastating abilities and defending their end zone."
To sum, here are the games that are joining the service on March 7:
That does of course mean that it's your last chance to grab the outgoing Ps Plus games – which includes the delightful LittleBigPlanet 3. It starts off a bit slow, but it's a charming adventure once everything comes together.
You've got until March 7 to download:
Last Updated: March 2, 2017