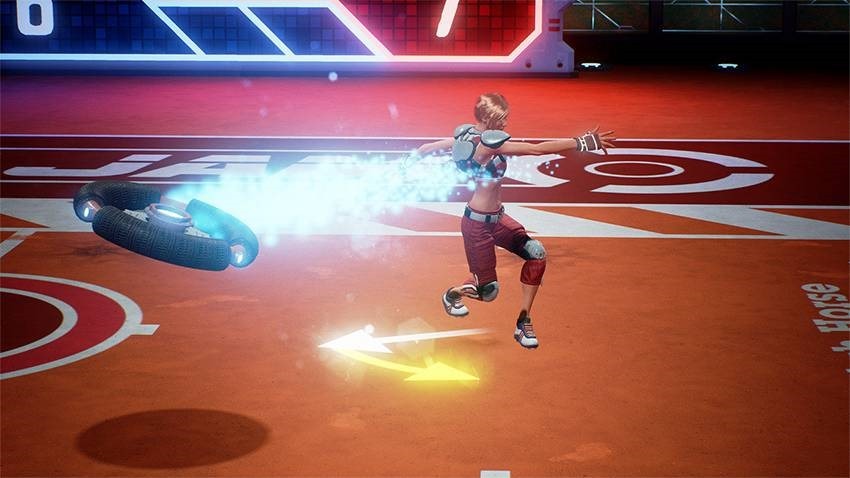 You're probably as bored of news about Sony and cross-platform play as we are. Right now, Sony's being vilified for not playing nicely with the other consoles in games like Minecraft and Rocket League. For reasons that make sense only to Sony, they don't want to let their network interface with the other consoles.
They're fine with cross-platform play on PC though. Rocket League allows PS4 players to play with PC gamers, as does Street Fighter V and MMO Final Fantasy XIV. Even on the last generation of consoles, PC gamers could co-operatively play Portal 2 with their PlayStation 3-owning friends.
Now they've enabled cross-platform play in another game. Disc Jam the futuristic sport game that's trying to tap in to Windjammers nostalgia was a free PlayStation Plus game back in March. It was released on Steam then too – and now the two versions will play together.
Says developer High Horse Entertainment:
"As we mentioned in our dedicated servers announcement, our recent infrastructure upgrades have paved the way for a very important feature: cross-play between PC and PS4! This means that players from both platforms will soon be able to play against each other, effectively joining our player pools and providing more competition for everyone.

"We had originally planned to roll out dedicated servers and cross-play much later in the year, but soon after launch it became clear that the best thing we could do to service our players would be to immediately upgrade our architecture in hopes of delivering the best online experience possible.

"Now that our implementation has been approved, the new update will go out as soon as it passes Quality Assurance testing. Our hope is that it will go live in the coming week but this timeline is somewhat out of our hands."
While that's nice and all, and it's lovely that Sony's letting its players play with PC gamers, they're still not letting other consoles join the party. And that's a shame.
Last Updated: June 20, 2017